Ok, shall fill in the details of the past 3 days.
Two Days Ago
Ok, so today I went out to celebrate Elisa and Jerome's birthday and met Auntie Rose (from the Philippines). I ate 3 bloody cakes la! One at Elisa's celebration (chocolate fudge), one at Jerome's (cookie cheesecake) and one at Aunt Rose's meeting (she couldn't finish her cheesecake). Urgh... So gross. Now I'm swearing off cakes for this month at least.
Here's a pic of Jerome and his cake: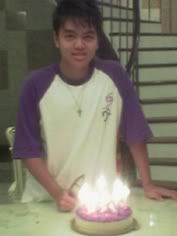 Yesterday
Still didn't go to school. Anyways, I went to the library and borrowed some books and comics. Nothing much happened, except that I met some old friends of mine and learned that the O' Level results would be coming out on Monday. Urgh... So, I picked up HX from the airport at midnight and chatted until about 3 plus am. Had a pretty good chat la I guess. Everything else is quite boring so shall not elaborate.
Today
Ah. Went to school today finally. Saw pretty much everybody I went there to see (ya know, Andrew, Terence, Gabbie, Charissa, Gloria, Veron etc...) In addition to meeting the people I wanted to see, I made some really unexpected friends today as well. The Mr Beautiful Eyes gang (ok, ok, his real name is Kenrick) actually talked to me, thanks to the Veronica's introduction. And they appeared to really like me after I started singing. Wierd.
Anyways, I don't find them
beng
anymore cos I know them and in fact, they're not
beng
at all. Lucky me. So after school, Alex followed me home to meet HX and after a shower, we went to J8 for lunch. After lunch, me and HX went Somerset to meet Daniel and played LAN at Cine. Almost puked again cos of the stupid, jerky CS, but I felt quite proud of myself cos I managed to get quite alot of frag. Haha!!!
We walked to Dhoby Ghaut to get Dan's Bluetooth adapter at Carrefour at PS. Then we went to Starbucks for coffee before heading to Paradiz Centre for pool. Had a great time!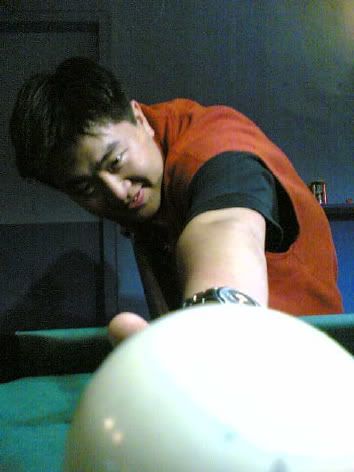 HX playing pool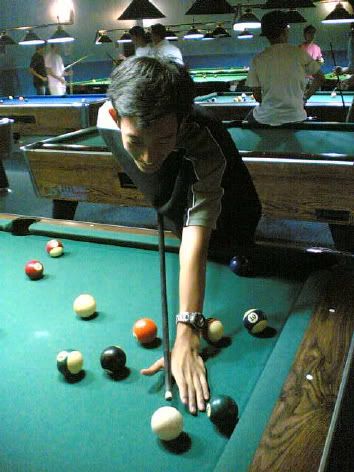 Dan playing pool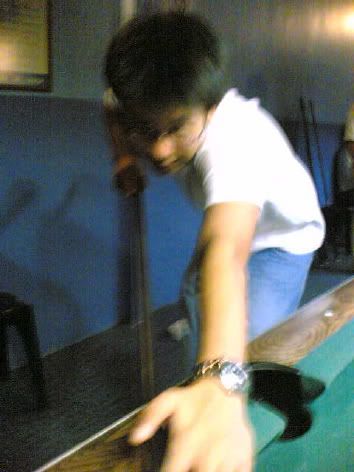 Me!!!
Had dinner at Kopitiam and we talked alot again. Had a pretty good day. Ok, shall end my entry here. Gotta go to bed...
Quote of the Day
: Be brave.