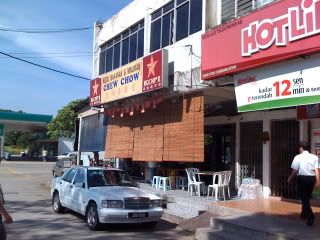 The day trip to Malacca was a rather eventful and fruitful one. I managed to discover and learn more about Malacca in a day than I have on all of my previous trips there collectively. You really do learn more about a place by walking around and interacting with the locals instead of driving through the streets and passing by everyone without so much of a second glance. Since this trip was mainly for the purpose of sending Mummy on her business visits, I spent most of the day with Dad. As I barely hang out with him anymore, I felt that it was a good opportunity for the two of us to bond.
1)
Coconut Milk + Gula Melaka + Crushed Ice + Kachang = Cendol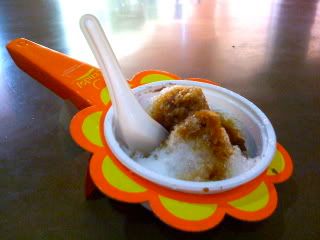 Our first stop was
Tan Kim Hock
. It is Malacca's most famous tourist pit stop for a pick-up of durian
dodol
(durian flavoured sticky cake) as well as the state's renown gula melaka desert,
cendol
. I ordered the normal version while Dad had the durian one. Personally, I found the
cendol
a tad too sweet for my liking, and the coconut milk that was used didn't taste very fresh. The durian
cendol
was basically what I had, except that is was topped with mashed durian
dodol
. Nothing particularly spectacular.
2)
Pose, Snap, Snap...and Scene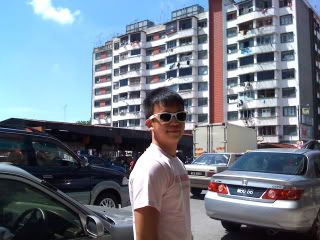 After the refreshing dessert, I told Dad to leave our car at Tan Kim Hock cos we've never actually walked anywhere in Malacca before except in the shopping malls. He was hesitant at first because he felt bad for parking there and not buying anything but I reminded him that our 2 bowls of
cendol
cost 7RM (at that point he went "Oh ya
hor
.") And off we went. We walked along the old shop houses and marveled at how Malacca has managed to keep the "colonial feel" of its ancestors handiwork.
And you know how trigger-happy my Dad is when he's with his camera around (and how much of a camwhore I really am). So I shall let pictures do the talking: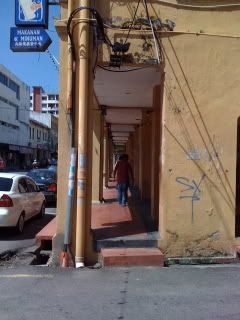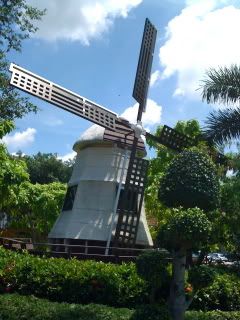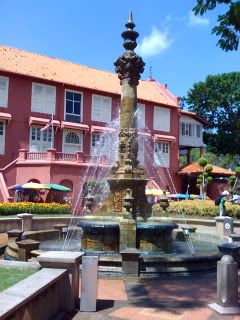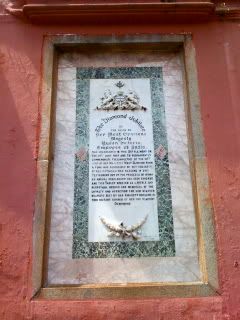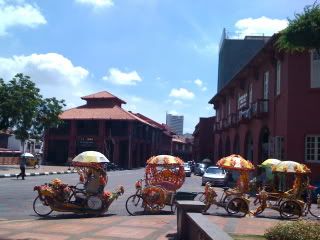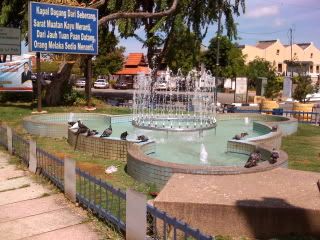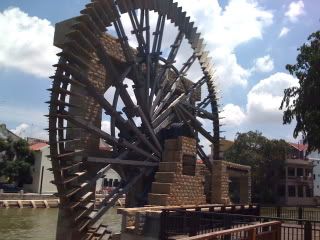 3)
Somewhere beyond the sea...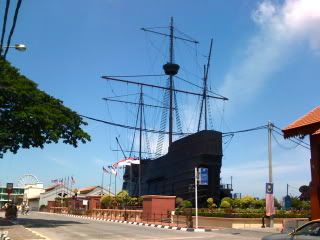 Along the way, we passed by the Maritime Museum and decided to pay a visit to it since we have yet to set foot in there before. And at 3RM per person, it wasn't too expensive. It was very informative and detailed how the control of the Straits of Malacca had changed hands from the Portuguese to the Dutch and ultimately the British before the eventual independence of Malaysia. More photos: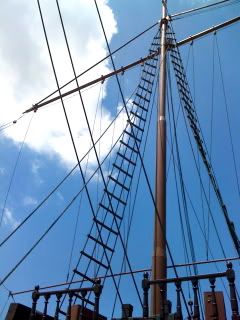 I love this shot!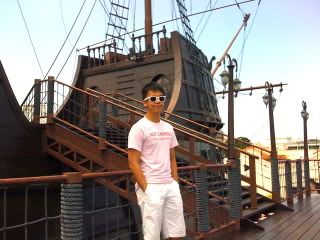 I approve.
View of the canal from the museum.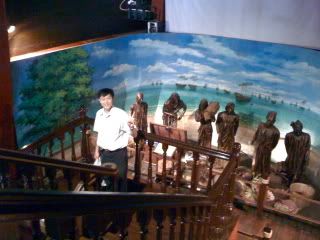 Daddy is a camwhore too!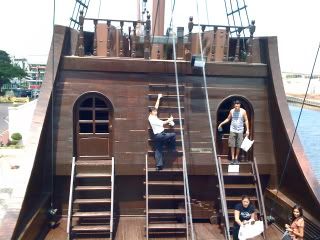 ...and he thinks he's the next Jack Sparrow. Not.
4)
Jonker Street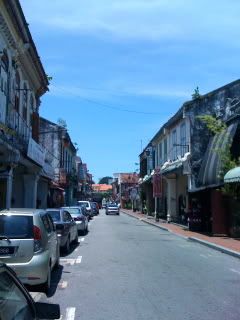 After the long walk, we headed back to our vehicle and drove towards our next destination in search for our lunch: Hainanese Chicken Rice Balls. Before long we found ourselves cruising along a stretch of road that vaguely resembled out Chinatown back home. We were in Jonker Street (also known as Jalan Hang Jebat). The buildings were very well maintained and filled with many antique shops.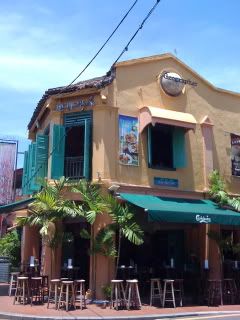 The Geographer Café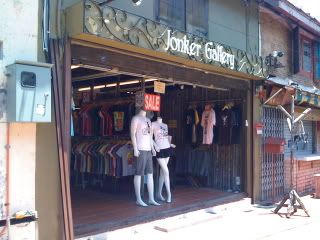 A shop selling their local brand street-wear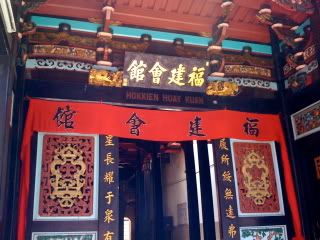 Entrance of the Hokkien Huay Kuan (福建会馆)
As we were happily snapping and
jalan
-ing, we came across a stall selling what we were looking for and proceeded to have our lunch. What we had was this: 9 rice balls, Hainanese steamed chicken, lotus root and chicken feet soup, stir-fried vegetables of the day, and home-made barley water. And guess how much it cost us? Only 14.80RM (SGD$6.40)!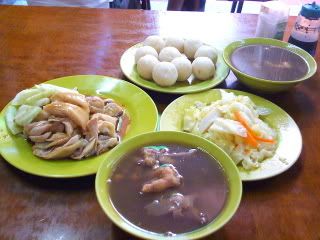 Before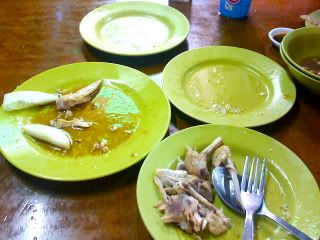 After
You see, grown men don't waste food! We are gluttons! I actually prefer our local Hainanese chicken rice to the rice balls tough. The balls have an...acquired texture to it. I guess novelty is novelty, eh?
5)
Chilling & Passing Time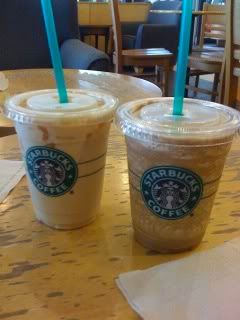 Well-fed boys need to rest, and so we did. Daddy drove us to Mahkota Parade (a very old shopping centre which I've been going to everytime we visit since I was in Primary school) and we sat our fat-asses down at Starbucks for 2 hours. I have never in my life seen any Starbucks as empty as the one in Malacca. Maybe it's because one drink costs 13RM and for a Malaysian who works and spends in RM to spend that much on coffee is actually pretty ridiculous.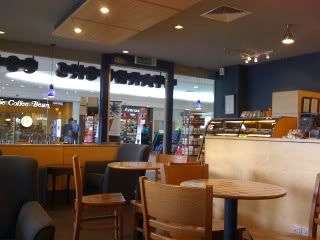 Emptiness...
6)
Sayang Sayang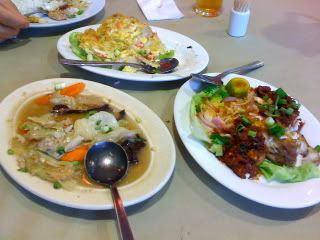 Our usual dinner-place (Ole Sayang) was closed, as they usually are on Wednesdays, so we went hunting for a new Peranakan restaurant. Mummy's sharp eyes almost immediately caught sight of one called
Manis Sayang
in the parallel street. The food there was actually better than Ole Sayang's (in my opinion)! Their
cendol
was heaps better than tan Kim Hock's. It had a more balanced flavour and they used very fresh coconut milk, so it was really delicious. Will definitely pay them another visit the next time I'm there.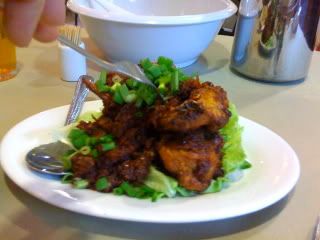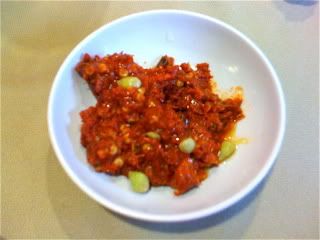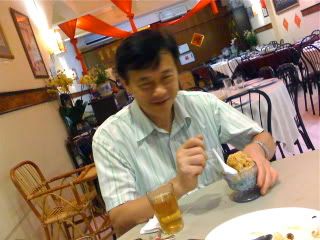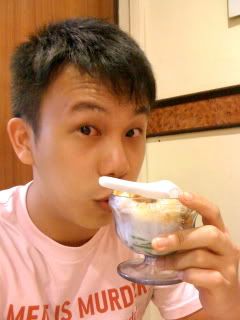 After dinner, we headed straight for the Causeway and managed to make it back to Singapore in less than 3 hours. I enjoyed myself tremendously (good food does that to me). It would've been better if I wasn't down with conjunctivitis though (see the last photo for evidence of my red-eyes). And that's all I have for today.
Till next time.
Footnote: All of the photographs were taken with my iPhone.