Yesterday
Went to Daniel's birthday party today. Didn't do much there cos I had to leave around 5 plus to meet Mart. So in the end, I managed to only socialise with Dan's lil' sister
and
HX. By the way, just before I left, it started to pour. And when I say pour, I mean
pour
. I still managed to get myself drenched even though I touted an umbrella on my way out. What the hell... After a
looong
walk toward the Marsiling MRT station, I managed to find proper shelter and got on the train towards Tanah Merah station. A bloody 50 minute ride...
So after I got there, met Mart and we went to East Coast for dinner, but changed our minds cos there were too many choices. So we went to Parkway Parade instead. Had Sliced-Fish soup while he got Char Kway Teow and we shared some dim sum.
Mmmm
... Nice. So after that, we walked around in the mall for a bit, and he played
Tekken
at the arcade. Survived until Stage 8.
Anyways, we parted ways (after some ice-cream. Yes, we ate ALOT.) and I met up with HX near my place and we went home.
Today
Ah... Woke up damn late today, at about 9 plus. Went for 10.30 mass at SFX, then met HX back home and took a cab to Little India (to meet Mart. Again.) For once, he was late. Then we went for lunch (Naan with Chicken and Mutton curry. Yum yum!!!) there, followed by a visit to Sim Lim Square. I've never been there before so it was quite a visual treat for me, cos there were so many shops! Anyways, we went to Rendevous Hotel to meet Ty (my US friend) after that. Here's a pic: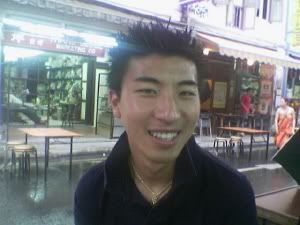 Ty
We went to Chinatown for some Popiah and talked alot, and Ty got some Chinese music Karaoke VCDs for his mum (they don't have those back in the States). After that, we went walking around till we reached Clark Quay and we took a bus to Orchard cos he wanted to visit Pacific Plaza. Didn't do much at Pacific Plaza though cos there wasn't much to see. Then we went to the DFS again and sat on the big comfy couches.
Then we went off. Had Ramen for dinner with Mart at the food court, then I met HX at Orchard MRT to go home. Phew. Hope tomorrow's results will be good...
Quote of the Day
: Time really flies, so enjoy life to the fullest everyday...