Ok, this is gonna be a looong post, so if you're not interested in my life, don't read it.
Started the day at 10 plus by having breakfast (Choco-chip cookies with milk.
Yummm
...) and going to my dermatologist at 12 plus. After which I headed to the new Wisma foodcourt for the widely-publicised
Hokkien Mee
. It was a 20 minute queue, but the wait was worth it. I can only summarise the plate of hot, fragrant noodles with 2 words:
Good SHIT!
So anyways, after that, I headed to the Novena for a short while of prayer. That was when Samuel contacted me. He needed me to help out one of his actors, Eugene, with the violin.
After a long period of calling, waiting, fuming, rotting, (add adjective here), I finally met
Eugene
. We got to his place (a really cramped service apartment in Chinatown) and I spent about an hour there teaching him how to play the bow (it's impossible to teach someone to
play
the violin in 1 lesson).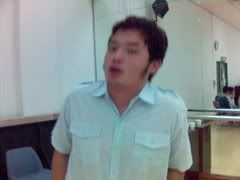 Not a good pic. Oh well...
You'll see him in a new Channel 5 sitcom very soon.
After all that, I took a train down to Yio Chu Kang and met up with my classmates for Kia Puay's belated Birthday Party.
I drank, got drunk and did some silly stuff.
I shall apologise to anyone I might have offended in my drunken stupor. Very sorry... I promise, no more drinking (in front of you guys, at least).
Anyways, I shared a cab with Shaun, got home and KO-ed till today.