I was down at Orchard hotel this afternoon with Emmanuel for the "Teaching As Career Seminar". It wasn't very informative and the things they talked about were quite on-the-surface. Nontheless, it's a viable career path. There was this really chipper Chinese teacher who gave a presentation about her life as a teacher. I think her name's Mrs Marilyn Soh or something. She seemed to be working on Prozac as she was astoundingly energetic. It was
really
kinda weird. But to each his/her own eh?
We went for tea after the talk at the Shaw Towers
TCC
. It was really nice chit-chatting there.
The haze was terrible today! I think it hit PSI 100 already. To make tthings worse, I've got a goddamned flu and the stupid smoke only aggravated my condition. Bloody Indonesia!!! @#$%&*!!!! If only they weren't so corrupted and had controlled the number of their forest-burning permits issued.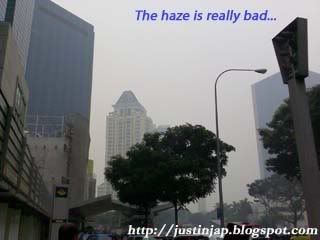 If only there was somebody we could sue.