The
Coffee Bean
outlet at Serangoon Gardens is officially the country's coldest coffee and tea joint. I swear, if it gets any colder we'd breathe steam in there. I stupidly forgot to bring my sweater there today. Was there alone the whole day (well, almost). Shaun popped by after his lunch to
kacheow
me.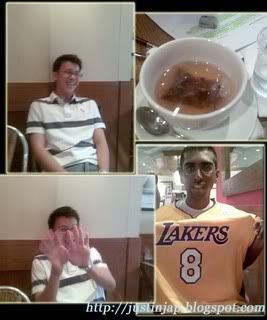 Note: The photos of yours truly were candid and taken by Shaun. Which explains the poor (blur) quality of the pictures. Shaun looks hilarious in his oversized jersey! Haha!
Finally finished studying Atmo & Climate for Geog! Surprisingly it's not as difficult as it seemed to be. I hope to be able to tie up all the loose ends for Physical Geog by tomorrow. Wish me luck!
Random Rants:
- Had to turn down
2
Halloween party invites!
- Gotta pay the stupid seller on
eBay
by next week.
- I want a
Siberian Husky
(but my house isn't big enough)!!!
- Couldn't go to
VivoCity
with my parents tonight. Sigh.