Woke up at around 7 to go to church. Still damn tired though cos I didn't really sleep well last night. After serving mass, I went to Great World Macs with Jerome and Zach for breakfast and met Isaac there as well. Joked around a little bit and went back to church.
At about noon, I went to the Esplanade Library with Dad and found several scores that I think would be useful. Dad borrowed some CD's and I signed up for the premium membership so that I could also borrow scores and Audio/Visual stuff. In the end, I got the DVD set of the first season of
Buffy
cos I never really watched the first season before (I was in primary school la...).
Then after that, we met mum at Marina Square and had lunch. My parents had minced-meat noodles. I had chicken rice. After we walked around a little bit more (and mum got herself some pretty nice CNY clothes), we went to Funan cos my mum wanted to buy a laptop. I had a high tide so I wen to the loo. That was where I saw this: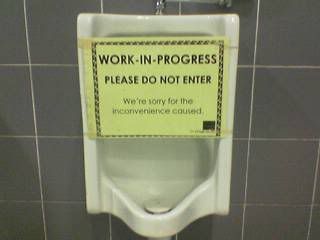 I practically laughed my head off la! Ok, I was thinking a little dirty la but hey, it's a toilet right? Haha!!! So anyways, we ended up wasting our whole afternoon there and didn't get the laptop cos of some reasons which I won't state here cos it'll be too long. After that, we went to United Square to collect mum's clothes and stuffthat she ordered. Had
Ya Kun
kaya roti and tea for dinner.
Just got home. Can finally hear the music on my blog! Yay! Well, I'd probably gonna go watch a bit of
Buffy
later and do some arrangement of scores for the recording. And message Mr Wang about the stuff.
Quote of the Day
: Nobody wants to be lonely, but sometimes, lonliness is rather neccesary.