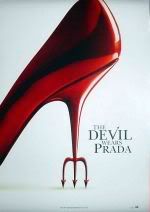 The movie was wonderful, with a dependable cast of capable actresses and a strong storyline. The show stealer was definitely and undeniably Meryl Streep, whose portrayal of the acid-tongued, ice-hearted
Runway
Editor Miranda Priestly was so real you'd think she actually exists.
Or so the author (Lauren Weisberger) says.
I heard from the grapevine that Miranda's modelled after the notorious former
Vogue
Editor-In-Chief, Anna Wintour. Both real-life and reel-life personas are of uncanny similarity and appearance, so I guess it isn't really coincidence, eh?
Here's a short synopsis of the movie:
The movie centres around the novel's protagonist, Andy "Andrea" Sachs (Anne Hathaway), a fresh graduate who in a twist of fate, ends up as Miranda Priestly's second assistant. From that point, we see the growth of a girl who begins with absolutely no knowledge about fashion whatsoever, to a sizzling fashonista (well, almost) who finally learns about the cruelty of the real world and what she wants in life.
The supporting cast did a great job in making this movie a success as well. Look out for Emily Blunt as Emily (yes her character has the same name as herself), the jumpy first-assistant and mentor to the clueless Andy, and Simon Baker as Christian Thompson, the manipulative charmer who falls for Andy as she progresses into the world of fashion.
It's a movie that brand freaks
cannot
miss (yes I'm talking to you Emmanuel). All the big brands like
Prada
,
Valentino
,
Jimmy Choo
,
Calvin Klein
etc etc sonsored their products for this show, so you know you're gonna see some really nice clothes.
- End of synopsis -
Did close to 9 hours of revision today (I'm quite proud of myself heh heh...) and had a nice, de-stressing swim in the evening. I love my pool! :D
It's exactly a week away from the prelims. Sigh...
56 Days to the first A Level Paper!
Time to die people, time to die...