I woke up at 7 and got ready to go down to The Cathedral of the Good Shepard (TCGS) to help Jevon serve a high mass. For those who don't know, TCGS is located opposite C.H.I.J.M.E.S in City Hall. I arrived there at about 8 but he wasn't there yet, so in the end I had a really lonely breakfast at MacDonalds.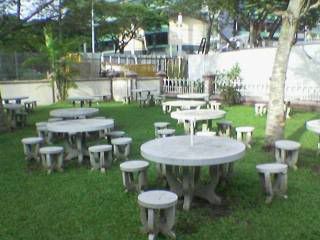 The small garden in the back of TCGS
At 9, I met Jev and he briefed me about the mass. And that was when I found out that there were only 5 people serving the mass. I mean, in St Berns, we utilize all the servers, which is about at least 20 people in strength. And then we have 5.
Anyway, it was a successful mass. The Archbishop was there, and there was some knighting of the Maltars or something like that. It was hot and humid, but I felt good. Maybe I'll go down and help them out more often. They look like they really need some extra help.
Anyways, so after the mass, I went for my dad's colleague's baby's shower, or what the chinese call "man yue". The baby boy's so cute!!!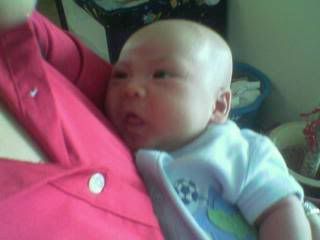 The baby boy
Then I went for my acupuncture session again. It was a 2 hour wait before my turn came. Then the excruciating pain followed.
I need to sleep.