Welcome to an all-new and much delayed episode of
"Discover! with Justin"
. In today's episode, I will take you through the weird and the interesting sights of Singapore.
~~~~~~~~~~~~~~~~~~~~~~~~~~~~~~
1. First up, I arrived at
VivoCity
, Singapore's largest and newest shopping complex that houses the state of the art cinema, 3 food-courts, an open-air wading pool... oh you get the point. At the jam-packed crowd-favourite
Candy Empire
, I encountered a boy with a strange dress sense. Here, take a look for yourself: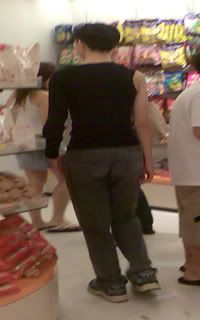 If you look closely, the left sleeve of his top has been unprofessionally ripped off to reveal his arm. What an interesting way to wear clothes.
Imagine that!
2. We try to be as racially/religiously sensitive as we can, being in a multicultural country and all, but sometimes, irony bites us in our ass and all we can do is look at it and laugh it off. If you're wondering what I'm talking about, take a look at this (taken outside
Banquet
at VivoCity):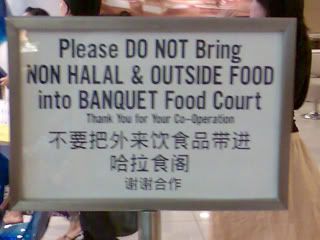 And right opposite the Nasi Bryani stall is...

The most non-Halal of non-Halal stalls!
I know it isn't equivalent to bringing non-Halal food into the Halal area, but it's still quite ironic, don't you think?
Imagine that!
3. Hidden within the housing estate of Bedok, behind the hawker centre of the Bedok interchange, lies the famous
Bedok curry
stall! Try the chicken curry! It's fantabulous!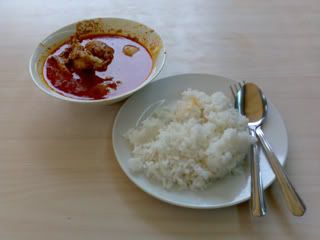 I bet you can't even
Imagine that!