There are some great finds in LA if you're not with a tour group. Tour groups = rush rush rush = buy buy buy = commercialized holidaying = no fun. Was visiting the downtown area in the evening and I discovered some "Uniquely US" stuff.

We visited a store selling yoghurt: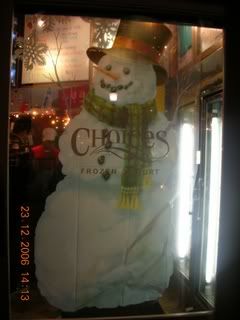 You must be thinking, "What's so interesting about yoghurt?" Well, the yoghurt here comes in a large variety of flavours as well as toppings. What's fun about it is that the toppings are mashed into the yoghurt in a manner similar to
teppanyaki
: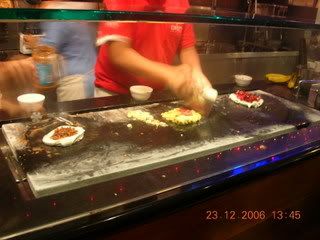 Chop-mash-chop-chop-mash-mash...
Take a look at the selection as well: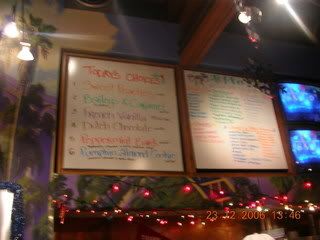 It was 5 degrees outside and we were having frozen yoghurt! Craziness! But it was worth it cos the yoghurt's so so good!
Imagine That
! I know you want to!
Say "AH...."
Other than yoghurt, there's of course the apples-on-a-stick, which I like to call the "ironic apples". Think "an apple a day keeps the doctor away" and "cardiac arrest". Take a look for yourself: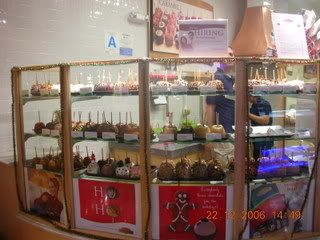 The world-famous "ironic apples". They've got apples coated in caramel, chocolate fudge, Oreo cookies, white chocolate, sugar sprinkles etc etc. Basically it screams "SIN".
They also have
satay
in LA!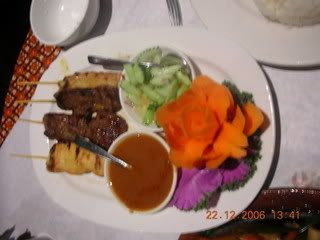 There are really ALOT of Asians here, which explains the bountiful supply of Asian cuisine here. Feels like I'm back in Singapore. Heh.
After a long (and filling) tour of Old Town Pasadena, Huaxia drove us up to
Mount Wilson
. When we got to the peak, I had a breath-taking view of the entire LA state!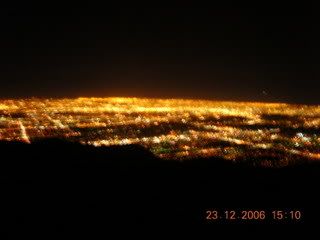 And the sky was beautifully lit up with stars! No clouds at all! I tried to take a photo of it... ...but failed miserably. Don't blame me. I'm not a professional.