How do you know when your Mum loves you? Is it when she sacrifices her time to be with you? Or is it when she makes you your favourite foods? Well, it's all that and more. You know that she really loves you when she makes
Wanton Mee (云吞面)
and the
wanton (云吞)
is the size of a curry puff. And I'm not kidding. Here, take a look for yourself: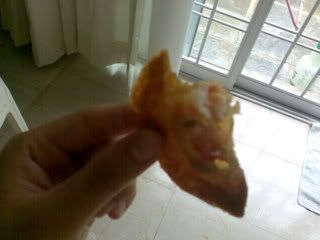 I call it "death by dinner". That's how much my mum loves me.
I just realised that a week from now, I'll be (almost) a free man! ~beats at chest and bellows like the Hulk~ It's CRUNCH TIME!!! YEEEEEAAAAAAARRRRRRGH!!!
People taking The A's,
Ganbatte
!