I'm sure many of you like desserts, especially ones with lots of coconut milk. So today,I'll be introducing my favourite Indonesian dessert,
Kor Lak
. It's basically tapioca with coconut milk and
gula melaka
. In my own recipe, I added sweet potatoes and bananas to give it a richer and a slightly tangy flavour.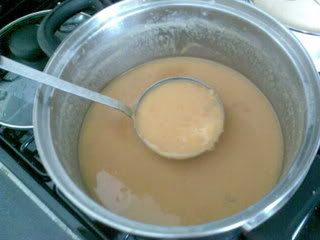 You'll need:
- Water (1L, about 5 cups)
- Freshly grated coconut (600g)
-
Gula Melaka
(3 cubes)
- Tapioca (1 root, cut into cubes)
- Sweet Potatoes (400g, cut into cubes)
- Banana (300g, cut into cubes)
You should:
(1) Steam the tapioca and sweet potatoes for about 5 minutes.
(2) Make coconut milk from the grated coconut by putting the grated coconut into a filtering bag and add water.
(3) Boil the coconut milk.
(4) Add
gula melaka
after coconut milk boils.
(5) Add steamed tapioca, sweet potatoes and banana cubes.
And
voila
, you've got your sweet dessert. If you want your
kor lak
to be sweeter, just add in more
gula melaka
. Can be served chilled or warm.
Enjoy! :)