Advertisement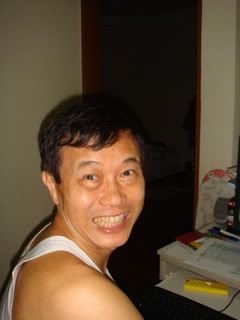 The new SONY T20 has smile detection features! It has never been a better time to catch smiling idiots and wannabe-clowns! Just point your lenses at a wide, toothy grin and it will automatically take snapshots again and again! Case in point: Daddy (see picture above).
Ok, moving on...
I had to go down to the Immigrations building to collect my new passport this afternoon. But the good thing is that I've got no more fear of frequent passport expiry renewals! YAY! Really loving the feel of the new biometric passport. Mmmm mmm.
In the evening, I headed down to the
Changi Airport T3
for the very first time to pick mum up and had dinner there. The foodcourt was huge! Then again, everything there was so spacious! Even the walkways were long and (almost) empty.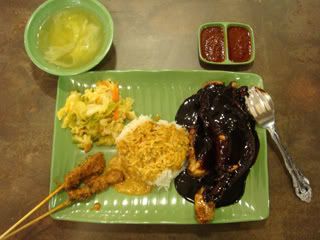 My dinner. Grilled chicken, Indonesian style (yes underneath all that black gravy mess is actually a pretty succulent piece of chicken).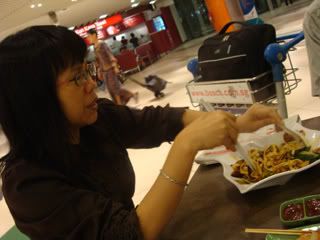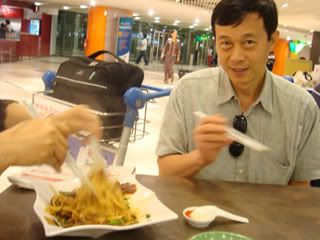 Mum and Dad shared noodles. So romantic right?
And onto the tour of the gargantuan T3: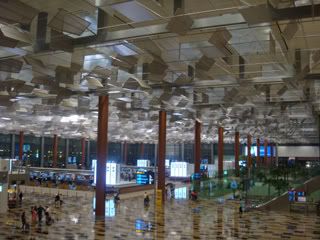 The amount of ceiling space and walking space is immense. It makes T1 and T2 look like the ugly and claustrophobic stepsisters. Speaking of ceilings...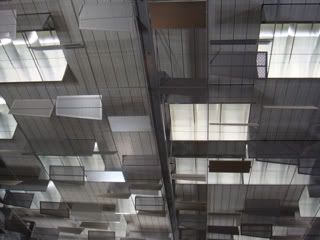 The ceiling's made up of many strategically scattered and angled metal plates. From what I heard, the ceiling has openings that act as a skylight during the day to conserve electricity by reducing the usage of electrical lighting. Very artistic and very ingenious as well.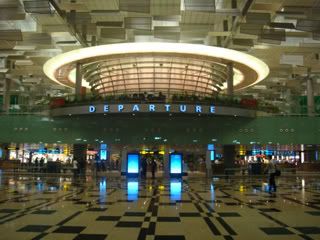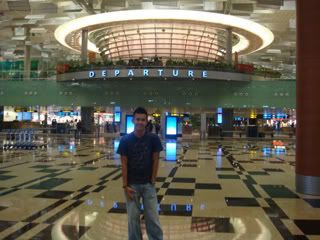 The departure hall looked like a futuristic setting from some Hollywood movie. Elaborate lighting aside, the architectural design is really classy. It gives an illusion of grandeur and space (and that place is damn big already, so this makes it look even bigger). Size does matter indeed. It's a truly magnificent piece of man-made eye candy.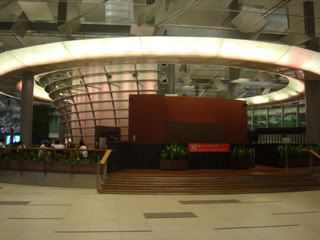 And the underneath the "halo" is actually a Crystal Jade restaurant! I checked out the prices just now and boy was I surprised. Prices are definitely steeper there compared to it's other outlets, but it's surely worth the moolah for the dining experience.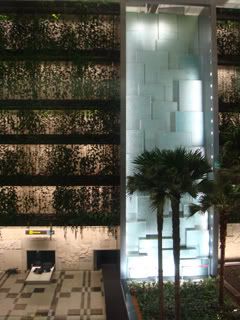 The arrival hall baggage belts. Palm trees and suspended vegetation. So
niiiiice
! I know I'm gushing, but I really can't help it!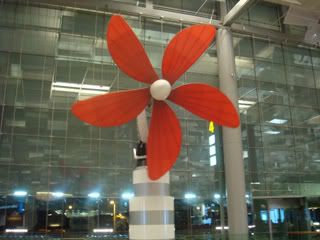 This was the only thing that I didn't understand. I know that Singapore has been touted as "The Garden City" for god-knows-how-long, but a mechanical flower? What, is that supposed to be alluding to the fusion of natural beauty with technological advancement? It just looks so wrong amidst all the natural flora and fauna.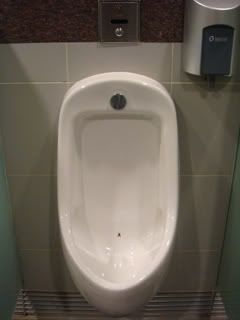 Besides the surroundings, I found that the toilet was pretty intriguing too. Do you see anything different about that urinal compared to the normal ones we use at the shopping malls? Look closely. If you're observant enough, you'd see that little speck smacked on the southern region of the pee pot.
It's actually this:
A fly. No, not a real fly, but a printed fly. My guess is that it's for aiming purposes since we (men) can be pretty careless when it comes to peeing. And you know what happens when we go off aim. Yup. Gross. But it's pretty interesting to see that on a urinal though. Maybe the other public toilets around the island should start adopting this idea.
That's all for today. Hopefully more interesting stuff happens tomorrow so I'll have something to share.