Today was a wonderful day!
After the past couple of weeks of craziness at work, I've finally managed to take leave and have some time for myself to do the things I want to do. Had a great time hanging out with Ker Min and Tammi at Sentosa this morning. And tonight, I had my first drink with Daddy (I usually only drink with friends). Lotsa photos today cos I got my NEW BABY, the Sony T70!!! Now I can go all trigger-happy with everything! =)
Morning @ Vivo/Sentosa with The Girls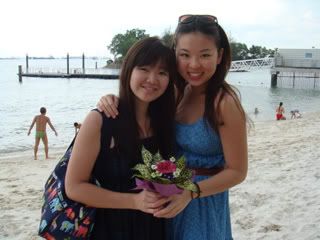 My Angels (short of one heh heh)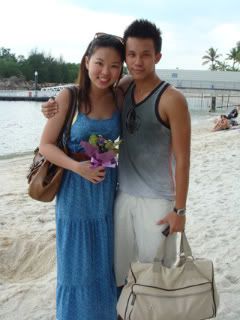 Our pseudo-wedding photoshoot pose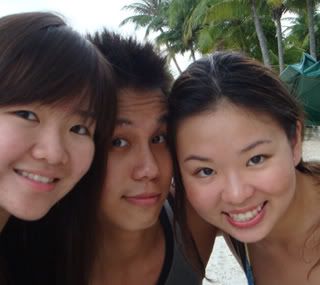 Squashing my head between two ginormous monstrosities (I'm kidding...)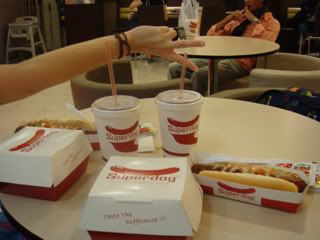 My first time at VivoCity's
Superdog
during lunch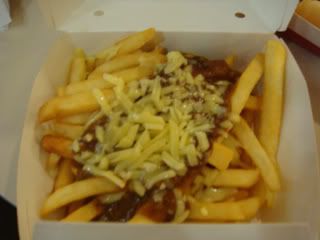 The 8th Deadly Sin: Chilli Cheese Fries
Ker Min doesn't like to smile next to me :(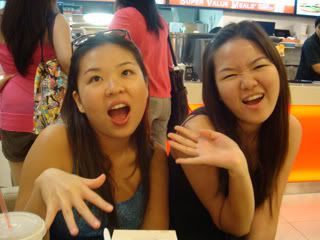 BIMBOTICA! Notice the bright light above Tammi's head in this shot? Yup. Ironic.
Tams and Ker Min: The Imitation of Britney's C*nt (Part 1)
Yours truly and Tams: The Imitation of Britney's C*nt (Part 2)
I'm trying to act anorexic while Tammi's acting bullimic. She obviously beats me hands down at improv, as you can see. Hrmmm.
Supper @ Holland V with Dad
Dad said he hasn't really tried Mexican food before, and neither have I (well, at least not in Singapore), so we went ahead for
Cha Cha Cha
. It's so catchy, I feel like saying the name over and over again! "Cha cha cha... Cha cha cha... Cha cha..."
Complimentary Nachos on the house. Love love LOVED the salsa! Yummm...
Dad and I toasting with our Lime Margaritas. It was really really strong. I think the bartender was out to kill us with the generous amount of tequila. And don't ask me why Dad looks like he's scowling in this particular photograph. I don't know why either.
Our first dish: Spring Rolls with Chicken and Beef filling
It was interesting to have meat-filled spring rolls. Never tried it before. The avocado and sour cream dips went surprisingly well with the rolls.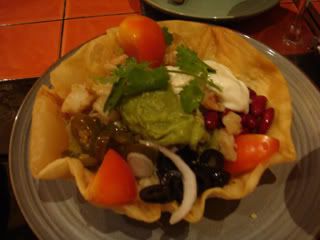 Our second dish: Shrimp Salad
After tossing everything together, I took my first bite and was greeted by a sudden feel of dining next to the ocean. The shrimp reminded me vividly of seaside seafood dining. Very
sedap
.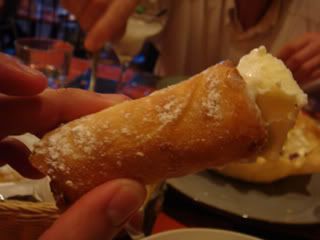 The final dish: Apple Empanadas with Vanilla Ice Cream
Basically empanadas are mini apple pies. Nothing very special about it, just the exotic name. What I did was scoop a little bit of ice-cream onto the piping hot empanada before devouring it in a mouthful. You can try doing that with the McDonald's apple pies and probably get the same feel.
It was really special to have the father-son bonding time tonight. Haven't had the chance to do that for quite some time. All in all, it was a long but fulfilling day. Shall go to bed now. More updates tomorrow! =)