My 20th Birthday was a BLAST!!!!
Actually, any birthday after last year's horrible nightmare of a "celebration" would be great. Oh, I can so vividly that fateful day. A little more than a year ago, I was stuck on a little island called Pulau Tekong doing my very first field camp. I was wet, cold, tired and to top it all, down with a nasty
nasty
flu. Fast forward a year into the future, I'm happy and contented with status quo.
The past week was really Birthday week. Kenrick and Timothy (3rd Feb), Samuel (6th Feb), Marilyn (7th Feb), Gloria and Terence (8th Feb), Jevon (9th Feb), Me (10th Feb).
Anyway, I went for Jevon's party at Sentosa on Friday. Met lots of new people and had quite a good time there mingling. Sadly, I got a little too intoxicated and "Merlioned" in the impeccably clean toilet of his suite. Ah, the cons of drinking too much.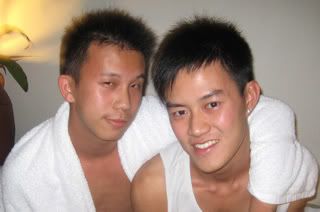 My only photo with the Birthday boy looking less-than-amazing in my drunken stupor.
Had a cozy family dinner with my parents at
Manna Korean Restaurant
at Amoy Street on the eve of my birthday cos it was the only time during CNY when we weren't visiting or had any visitors over.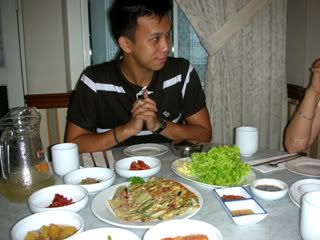 The Korean spread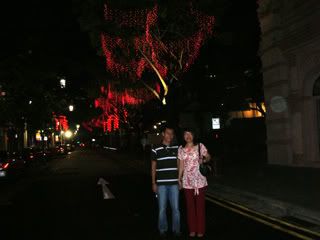 At Amoy Street with Mummy after dinner. The night view was amazing!
My relatives came over for lunch yesterday and we took the time to cut the Birthday cake in their presence. It was a small but jovial affair, just uncles, aunties, grandparents and cousins. If only those in Indonesia had come to Singapore for CNY.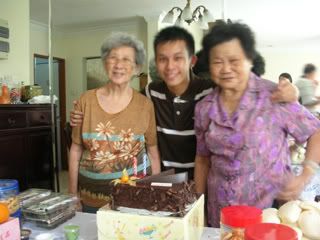 The two women who have seen me through my childhood: my paternal and maternal grandmothers.
In the evening, I went to
St James Powerhouse
for a party together with my DB mates and Emmanuel (who brought Rayner along). I must say that the music was pretty disappointing but I had a great time nonetheless cos IT'S MY BIRTHDAY AND AIN'T NOTHIN' GON'A MAKE ME RILED! Was high but thankfully not drunk. Bumped into Bryan and Charles there (surprise surprise!) and hung out with them as well.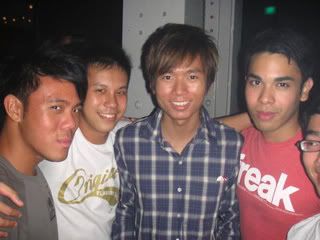 Bryan, Me, Raphael, Emmanuel, Rayner (sorry but half your face was out of the photo)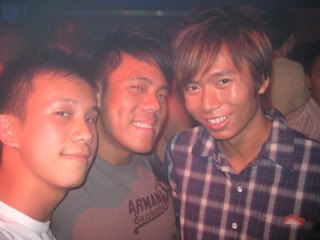 On the podium with Bryan and Raphael
It was a wonderful Birthday adn I'm pretty sure I'll make the coming one (the BIG
21ST
) the most memorable one of my life.
Sometimes when you have no expectations, you can be pleasantly surprised when things turn out to be really good. =)