Today was an ok day.
Had my first out-of-school GP lecture at
The School Of Thought
(TSOT in short). In my opinion, it was a really good lecture. The notes were very comprehensive and I gained new knowledge (in a way).
Today was also the day when RW asked me out after eons of our previous meeting. Seems like he had nobody else to ask out (due to the NDP 2005 rehearsal today, or so I assume) so he called me. And so happened I was free after TSOT, so I decided to meet up with him.
Met him at Raffles City and we walked around a little after lunch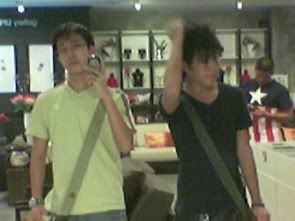 Me & RW (at The LIFE Shop)
Me shooting. Him fixing his hair. As usual...

After walking around and some moments of bitching, I suggested we visit the new National Library at North Bridge Road (somewhere near Raffles City). And so we went...
The New National Library
Nice view from bottom up...
And that goon wanted to search for "Phil Kell", or somebody with a name close to that, on the new library's searching system (he's some accomplished painter, or something), so we keyed in the keywords, waited for 10 minutes and the machine was still searching at the speed of a crawling grandma. In the end, due to our waning patience with the increasingly annoying idiot-box, we walked away.
Then we walked around and viewed some exhibits. The library was incredible...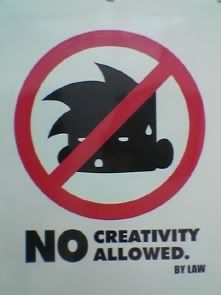 NO Creativity Allowed (BY LAW)
A nice poster I saw at one of the exhibits.
Well after we left the library, we went to Bugis Junction where be basically just walked around and bumped our way through waves and waves of people. It was bloody irritating, partly due to the immense lack-of-air and the huge crowd.
I hate crowds.
I left after awhile to meet my mum for dinner and left him alone to wait for his friend. The rest of my night is unimportant, dry information that is not worth devulging on this blog. Thankyew.
Quote of the Day:
Marvel Girl
:
We're in the White Hot Room, the core of the Phoenix.
Psylocke
:
Does everything we do have to revolve around that bloody bird?!