After a long week of slogging away at work, the weekend finally came for me to simply let loose and bum around like an aimless vagabond. Having said that, I've come to realize that my favourite form of de-stressing isn't working out; it's
pigging
out. Well of course I like to hit the gym and go for runs and go for swims to let off steam and to get my mind off things, but gluttony really is the world's greatest pleasure.
Pigging Out Day 1: Saturday with Jorge
I met up with Jorge for tea (and then some) on Saturday afternoon and we did what we did best: EAT. Alot. Without th need for much deliberation, we headed to our first stop,
Barcelos Flame Grilled Chicken
. During our previous trip to Vivo, we decided that we'd pay a visit there on our follow-up trip because of the enticing aroma of grilled chicken that actually drew our attention away from
Ben & Jerry's
(which is directly opposite BFGC).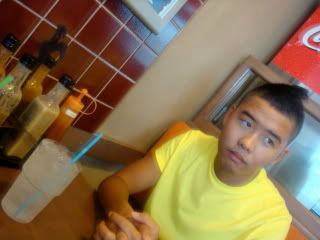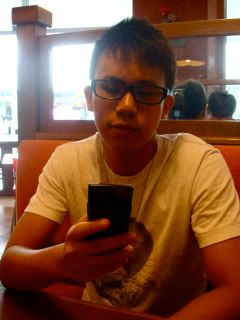 The 2 of us waiting impatiently for our food to be served.
[Insert Imaginary Photos Here]
The photos of the food were really really lousy. Hence the no-picture above. Man apologies. Anyway, the chicken was absolutely delicious and the meat was of pretty good quality. The sides (we both chose the "spice rice"), however, were a tad disappointing. Too dry and too salty. Should've gone with my gut and paid $2 more for the wedges. Hmph. Maybe next time.
Following that, we sauntered around to let the food go down. Then I came up with the brilliant idea of going to
awfully chocolate
for their world-famous (ok, maybe not "world" but it's definitely famous) "黑" (pronounced "Hei") ice-cream.
We contemplated between getting a scoop versus getting a pint ($3.80/scoop, $11.80/pint) and eventually settled on getting a pint.
And I immediately regretted that decision after the 1st spoonful.
Not because it wasn't nice, but because it was
really
sweet. One mouthful = immediate satiation of the sweet tooth. But somehow, the two of us managed to finish the entire pint on our own. Mind over matter!
The pint of "黑" in the hands of a very delighted Jorge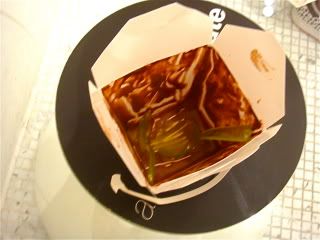 Digging in, savouring and leaving behind the remnants
For the rest of our day, we didn't eat anything else. Lesson of the day? Too much sugar kills your appetite. Take your desserts in moderation.
Pigging Out Day 2: Sunday with Norris
At the Paragon outlet
Maybe it's because we went to Phuket together, or maybe it's because we both share great (gastronomic) memories of Thailand. Cos everytime when Norris and I meet up, we'll somehow end up eating Thai food. Sunday was no different. I think we can safely say that ThaiExpress has become our "usual dig".
He was craving the authentic Thai Crab with Vermicilli while I wanted to have Pineapple Rice. And so we did.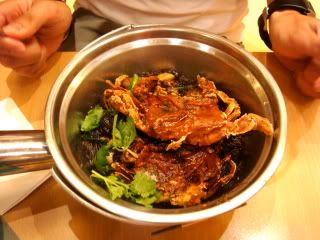 When the food came, we realized that it wasn't completely authentic because they used soft-shell crabsinstead, but nonetheless it was delicious and had just enough of "wok hei" (or "锅气", as the Cantonese like to call food that's stir-fried quickly under high temperatures in a traditional wok). My pineapple rice was a pleasant surprise as well since I didn't expect there to be so much seafood in it. It came with a side of frechly diced pineapple and a generous serving of fish, squid, prawn and a light sprinkle of golden raisins.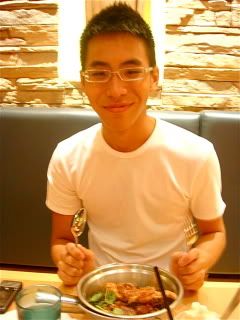 Boys are happy when they're fed
To end off the meal, I had a cup of ThaiExpress' singnature dessert, Chendol.
The only difference in their Chendol compared to the ones we have elsewhere is the addition of red rubies on top of the existing condiments in the usual recipe of the dessert. It gives an added texture and an extra crunch that accentuates the smooth, silky coconut milk and sweetness of the
gula melaka
. Deeply satisfying with every mouthful and the perfect ending to a rich, warm meal.
After finishing up with our meal, we took a stroll along the main stretch of Orchard and gues what, even Juicy Couture picked up on my pigging out weekend theme!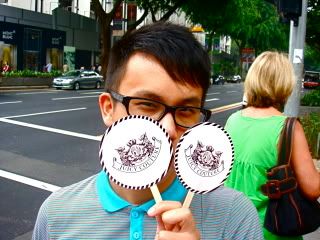 Juicy Couture Lollipops
It's actually just a marketing gimmick that they had today in association with the SPCA Flag Day that was going on as well. Still cute nonetheless, doncha' think?