It's been awhile.
The past week has been a crazy emotional roller coaster. Trudged through many downs and even deeper downs with the stress at work and outside of the workplace. But what doesn't kill you only makes you stronger. So there.
The weekend was thankfully better than my dreadful weekdays.
Caught Joe Wright's latest movie "Atonement", starring Keira Knightley, James McAvoy and relative unknown Saoirse Ronan on Saturday evening. It was a rather depressing movie revolving around a lie of a jealous 13-year-old, Briony (Ronan) that that resulted in a chain of events that changed the lives of two blossoming lovers, Cecelia (Knightley) and Robbie (McAvoy). Beautifully directed and impeccably scored, the movie is definitely deserving of an Oscar for Best Picture at this year's awards ceremony. Not a movie you should be watching if you're on a date though.
~~~~~~~~~~~~~~~~~~~~~~~~~~~~~~~~~~~~~~~~
Sunday was great as well. The kids in class were very cute as usual, and I finally managed to communicate them at their level. Seemed like it wasn't so long ago when I was 10 myself. DB training was wonderful because the weather decided to be kind to us. Even though dark clouds loomed overhead for the whole afternoon, we were spared from a thunderstorm. Working out and challenging myself mentally always makes me feel good.
Met up with Tammi and Jiapei after training at Arab street for dinner and
shisha
. I was brought to a really cosy Egyptian restaurant that I never would have found on my own if not for the girls. Quite an experience I must say. Nice food (which took damn long to be served) and ambiance. I'm definitely bringing people there in the future.
The peculiar but titillating Hibiscus drink that I tried. Unique and light on the tastebuds.
My Lamb Kebab. Light and not overly pungent. Really good stuff. Yummm!
Jiapei's Chicken Kebab. Had the identical dressing as my one. I guess all kebabs are served the same way. The chiken was juicy and not overdone.
Sidap...
Forgot to take photos at the
shisha
place though. Sigh. Shall remember to do it next time.
~~~~~~~~~~~~~~~~~~~~~~~~~~~~~~~~~~~~~~~~
After lunch today, I went for my virgin Boyzillian wax session at
StriP
. I thought about all the times that I'd been brutally penetrated by 16G needles "voluntarily", and it was comparatively less painful. Now I can finally go sunbathing without worrying about unsightly body hair sticking out at the wrong places. If you're thinking of waxing, do check them out at. More info can be found on their
official website
.
Sautered past Nike by B.I.R.D on my way back and saw this (Shaun, this is just for you):
Kobe's new shoes!!!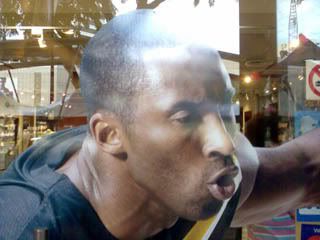 Aaaaand Kobe's face on the doors!!!
It's back to camp tonight. Oh joy.
More updates next week!