Life at the Medical Centre has been quite an eye opener. I always thought it was a really easy job, watching my seniors plod around in the air-conditioned building (24/7 air-con!), laughing and joking all the time. That all changed when I actually started working there myself.
Air-conditioning may seem nice when you're stuck under the hot sun, but it's not so when you're in it
the whole day
. I guess it's part of the eternal paradox about people not ever being satisfied with what they have. Nowadays, I basically wake up in an air-con room, work in an air-con room, eat, watch tv, even
sleep
in an air-con room. The dry air does get to you after awhile.
Aside from the air-conditioning, life has been pretty good thus far. I've learned a lot from my seniors (eg. working the computer system for all kinds of admin stuff, giving jabs, drawing blood etc etc etc...) and made a couple of new friends at the same time. But every night before I fall asleep, I always think about my mates who're in Brunei. I can't help it. I really really miss them. Sigh.
On Friday, we had our "cohesion day" where most of us from the Medical Centre went out together for a movie,
Underdog
. It's possibly the worst movie I've ever seen, akin to the horror that was
Glitter
and
Son of the Mask
. Basically, I think the Straits Times movie critic (I can't seem to remember her name off-hand) ought to be shot for giving it a
passable
review, because it definitely failed miserably in my opinion. It's unforgivable superhero clichés and bad puns were obviously made for movie-goers with the intellectual capacities of empty fish tanks. Please please
please
do not
watch it.
On a happier note, I met up with Emmanuel today (it's been too long)! Here's us doing The V (in honor of V-Beck) and other assortments of poses on our way home: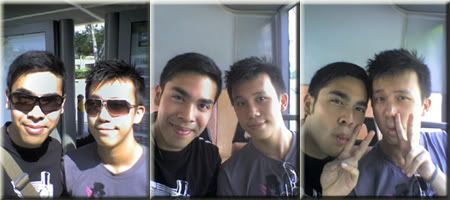 I had a pretty nice long-weekend. Hopefully the following week will be just as good, if not better.