I've realised that my recent blog posts have been pretty incoherent and boring, so I've decided to write on an interesting topic today: movie kisses. As you already know, sex sells. In almost every movie nowadays, there's bound to be some sex or suck-face scene just for the sake of titillating our (erotic) senses. Here's six of what I feel are the most memorable suck-face movie scenes.
#6: Great Expectations
Starring Gwyneth Paltrow, Ethan Hawke
What's more seductive than a kiss at a water fountain (known to most of us as "water coolers")? Gweneth Paltrow really steamed up the screens with this kiss. Very memorable kiss cos it vamped Estella up, reinventing her as more than just a woman who plays with a man's heart.
#5: Batman & Robin
Starring: George Clooney, Chris O'Donell, Uma Thurman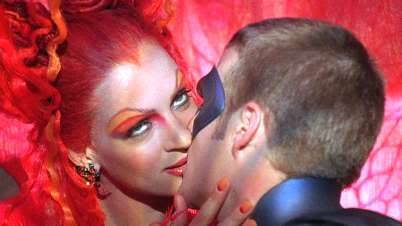 It was dissed by the fanboys and agreeably the worst portrayal of the Gotham Dark Knigh and his amazing sidekicks. Critics called it "Trashy movie", "Disgrace of the Batman franchise" and such. Personally, I agree. If not for the comical reinterpretation of Poison Ivy, the villian with the poisonous kiss (played by Uma Thurman), I doubt anyone would even remember it. I thought the "death" kisses in the movie were really funny (in a weird way), that's why it got on this list.
#4: X-Men 3
Starring: Hugh Jackman, Famke Janssen, Halle Berry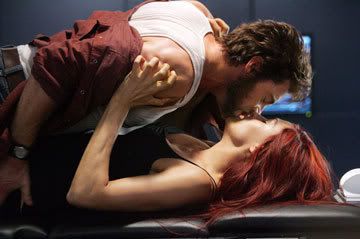 This picture makes me wanna say "Phoenix and Wolverine sitting on a tree, K-I-S-S-I-N-G..." Well, aren't they? Sad that he killed her at the end of the movie. They looked pretty good together.
#3: Brokeback Mountain
Starring: Jake Gyllenhaal, Heath Ledger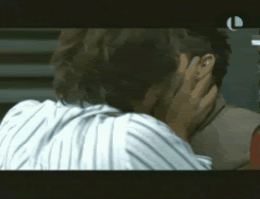 It was Hollywood's first über hyped up gay movie with an Asian director. Hyped up as it was, I didn't think it was as great as many people said it was. To each his own eh? It got on this list plainly because of the hype.
#2: Spiderman
Starring: Tobey Maguire, Kirsten Dunst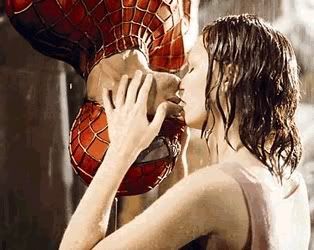 The ever cult favourite kiss got #2 on my list because it was one of a kind. Seriously, in which other movie did the male lead kiss the female lead hanging upside down from the ceiling (other than the lame "Epic Movie"-type ripoffs, of course)? I'd say it's definitely one of the most unforgettable kissing scenes
ever
.
And now it's time to reveal who's at the top spot...
In 5,
4,
3,
2,
1...
#1: Titanic
Starring: Leonardo DiCaprio, Kate Winslet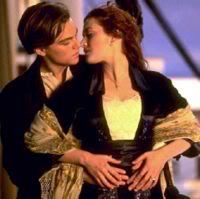 Absolutely classic. Who can ever beat the "Jack, I'm flying!!!" scene from the movie that propelled Kate and Leo into superstardom? My favourite suck-face scene of all time.
~~~~~~~~~~~~~~~~~~~~~~~~~~
And that's all for tonight. Hope you guys enjoyed it. Gotta head back to camp tomorrow morning for fire piquet duty. Sigh. That's NS life for you. :(