HEY Y'ALL!!!
After a long, dreary and dramatic flight from Singapore to Hong Kong, and Hong Kong to San Francisco, I'm in the US! In all honesty, I don't enjoy long haul flights. This particular trip was no different. In fact, it was slightly less enjoyable due to a couple of factors:

WARNING: PICTURES BELOW MAY BE DISTURBING FOR SOME READERS
1) Disgusting Lavatories
I only use the loo twice on my trip, once from SG to HK, and another time from HK to SF. The very first time I stepped into the cubicle, I was greeted with the what I can only describe as a scene from a nightmare. I shall let the pictures do the talking.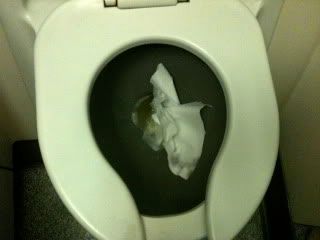 There are visible signs in place reminding users NOT to throw anything into the toilet bowl, but people still insist on doing it. It's either stupidity, or plain apathy. No prizes for guessing what's what.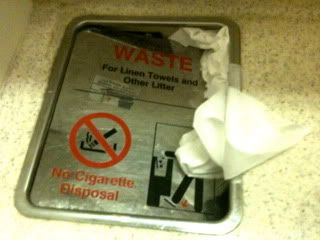 The disposal bins were NOT full but some buggers just didn't want to push it in. Why, people, why.....?
Toothpicks. In. The. Sink. UGH.
2) Business Class Drama
There was a journalist from the Business Times who was supposed to be flying in the SIA Business Class (see the alliteration I did there?) but due to some major screw-up in Hong Kong, his seat was usurped by a non-Singaporean couple who had apparently only targeted him and begged him to give up his seat to them
FOUR TIMES
just because they said that they couldn't sit apart. How in the world is it possible to
oversell
Business Class tickets? That, I will never know.
Needless to say, the poor man had to fly no matter what (he had an important conference in SF), hence he was placed next to my mother and I for the HK-SF leg because that was the only seat left. FYI, we were sitting in the Economy section (about a $5-6K difference in ticket price compared to Business). Needless to say, the chief air-steward was incredibly apologetic and came over to our seats countless times to ensure that the said journalist would not spontaneously combust out of frustration and anger due to the unjust treatment.
Therefore, my sleep (which totaled to about three hours) had been constantly interrupted, no thanks to the air-steward. Oh, did I also mention that our HK-SF flight was delayed for about 30 minutes because of said couple? They were the last to board and yet had the cheek to
saunter
onto the plane
ala
VIPs. Bloody hell. Karma will not be kind on them. Just wait and see.
In other news...
I GOTS BYE-BYE GIFTS!!!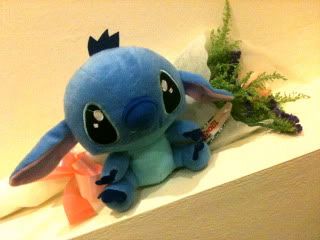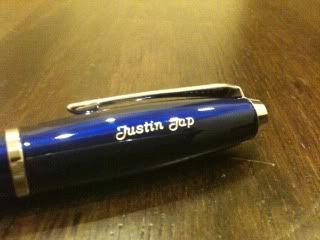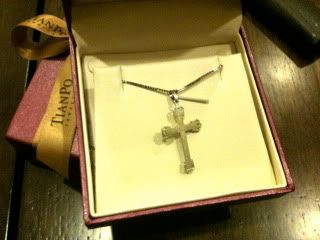 I got a couple of really nice farewell gifts prior to departure! My friends are so sweet la. Many thanks to Dennis as well as Jerome, Claudia & family. I really appreciate it. *big hugs*
Stay tuned for more updates!
Lotsa Love xx :)
JJap