How long has it been since I last went for a movie with my Indonesian cousins (no Andrew, you don't count; you're a once-removed cousin :P)? Hmmm, since never. So anyway, we went out together today for a movie since it was the Hari Raya holidays and I had no plans for the day.
Movie Review: Eagle Eye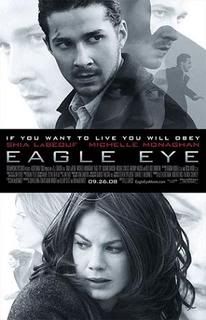 Once again, Shia LaBeouf is the leading man of an action film produced by Stephen Spielberg. With Constantine (well he was Keanu's sidekick, so I guess it counts), Transformers, Disturbia and Indiana Jones under his belt, one would think that he'd be consumed by the genre already. However, he manages to provide a very solid performance as a government fugitive on the run due to the manipulation of a sentient, government-created computer security system that went rogue. With him is Michelle Monaghan (from this year's romantic comedy Made of Honor), who provides the movie with a maternal touch without being overly whine-y and stiff. However, the show's true scene stealer has to be Rosario Dawson , who portrays a special agent for the US Air Force. Her delivery has never been so good since Clerks II (IMO her parts in Death Proof and Sin City didn't do her acting chops justice).

Without giving too much away, the movie is somewhat similar to the premise of the Terminator series (Terminator, T2, T3, The Sarah Connor Chronicles), sans robots from the future but plus manipulation of humans by a computer system. It's relatively well-paced and gives a very real "what if?" feel by providing the audience with a scenario where technology become too smart for its own good.
To end off, I'd like to wish everyone a very Happy Childrens' Day (no matter how old you are, cos everybody has a kid within)! And Selamat Hari Raya Adilfitri to all my Muslim friends!
PS: And to you Emmanuel, HAPPY 20th BIRTHDAY! It really was nice meeting you this morning for brunch. :)
Till next time, xoxo.