It's been awhile.
Met up with Kitson, Shaun, Meifeng and Tammi for dinner at Chomp Chomp tonight. The last time I actually saw Kitty and Shaun was waaay back in February, so it was really nice meeting up again today after such a long while. I can still vaguely recall the days in JC where we would hang out together in between classes, bitching and moaning about everything under the sun. Oh, those were the days. Time really does a whole lot to your social landscape if you don't hold it under tight control.
After dinner, we made our way to Haarto for yummy gelato! I
love
Haarto! They've got the best milk tea gelato around! Imagine this: your
teh-c
in frozen form that melts into a cool yet satisfying cream concoction as soon as you put it into your mouth. Nothing can beat that!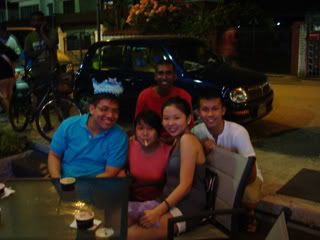 The lot of us at Haarto. Clock wise from left: Kitson, Shaun, Me, Tammi and Meifeng
Tammi's flying off to Paris tomorrow night! I'm gonna miss her ALOT (at least for 3 weeks). But I've got my upcoming Phuket trip to look forward to. The sun, the sea and the beach. Mmmmmm.
Nice
. Just thinking about it makes me all excited already. Can't wait!