The annual Singapore Fashion Festival ended with a bang with Calvin Klein's Sping/Summer 2008 collection. I arrived at Orchard after training in a very shabby get-up (a loose shirt and striped pants), looking like a yuppie who'd just stepped out of an office in Shenton Way. Thankfully Tammi was around. After purchasing and draping a scarf, I looked much more presentable.
In a lovely shade of blue
The collection was not really amazing, just ok. What caught my eye were the sandals that the male models were wearing. Very very chic (and very very pricey, I'm sure). The ladies collection was plain and simple, and I didn't like the luminous pink that was used for some of the pieces.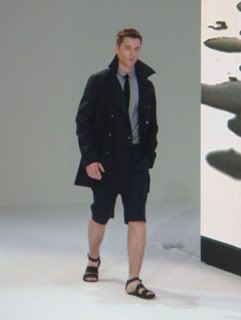 The really hot sandals
"Urgh" pink
Anyhows, we were both satisfied because we caught the models that we wanted to catch, namely Emma Pei and Sheila Sim. Emma Pei is the new up-and-coming Chinese supermodel who has appeared on international catwalks for couture houses and designers including Alberta Ferretti, Andrew Gn, Antonio Amaras, Cacharel, Dries van Noten, Miu Miu and most recently, Dior's Haute Couture Fall/Winter 2007. Sheila Sim is currently the top model in Singapore and has recently been selected as the face of London-based Singaporean designer Asley Isham's international ad campaign for Fall 2008.
I like.
Emma Pei
Sheila Sim
So hot. Anyway after the show ended we were approached by some SFF staff and her camera crew to do a spontaneous post-show interview. Let's just say that neither Tammi nor my answers to the questions ("What did you like about the show?" "Which is your favourite part of the Calvin Klein collection?") were particularly coherent. Which is why I'm keeping my fingers crossed that our interview will be cut from the final product. Still crossed.
More photos: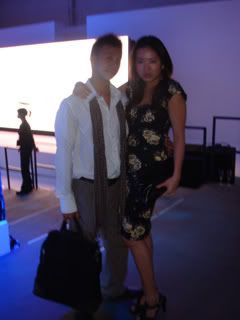 Us sans Yuran (he was doing dressing)
I loved Tammi's dress!
This year's MasterCard commercials didn't make any sense. At all.
After that, we went for drinks at NYDC and then I headed off to meet Emmanuel and Tammy (hers ends with a "y", not a "i") at St James. Nothing really fabulous or out of the ordinary, but the music was good. All in all it was a pretty exciting and fun-filled day.
Can't wait to go personalise my paddle tomorrow!