If there ever was a country where you could get a large variety of food choices, it's America. And I'm a really lucky boy cos I've been able to try many different types of food since I got here. Today's blog entry is hence dedicated my gastronomic adventures.
There's a popular misconception that
authentic
Asian food and cooking materials are hard to come by in the US. For the record, I've been to 3 different Chinese supermarkets here which consist of mainly imported food-stuff from China and Taiwan. Maybe there really wasn't much of these stuff 10 years ago, but there are plenty now.
And the most memorable restaurant I've been to for Asian food has to be the
Jazz Cat Café
. They served
mini hot-pot's
(aka
shabu-shabu
)!
Imagine this: You're freezing on a cold winter's night. Then, your friends decide to invite you for a meal at a cozy little café that serves one of your favourite dishes that is completely appropriate for a night like that. That was how I felt when I got there.
There's also something that's really common here which we hardly see in Singapore, and that's Mexican food. Although I'm not a huge fan of black beans, I sure am in love with
nachos
and
burritos
! Here's something I had at
Baja Fresh
:
Filled with tender, juicy beef slices, fresh tomatoes, gravy and served toasted with melted mozzarella cheese, this burrito is heavenly. They even provide you with a side of nachos and fresh veggies topped with cream cheese. Looking at it already makes my mouth water.
We also visited some of the more well-known restaurants, one of which being
Bubbe Gump Shrimp Co.
, which was inspired by the Academy Award-winning movie,
Forrest Gump
. Those who are allergic to prawns (like my dear Aunt Stephanie), be warned.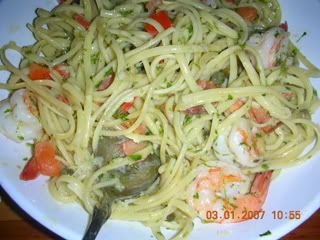 Scampi Sautéed in Garlic & Butter on Fettucine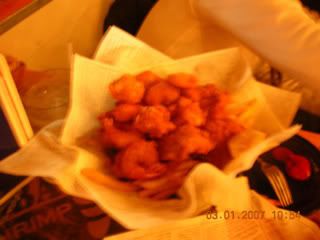 Shrimp Bucket
To match the theme of the movie, the management even came up with this:
Not the two smiling giddiots, silly. The sign saying "Run, Forrest, Run".
The other well known establishment that I visited was
Pink's Hot Dogs
.
Being the pig that I am, I had
2
hotdogs. The first one I had was the Guadalajara Dog:
I'm guessing it was a Mexican inspired thing. The sausage was juicy (cos it's home-made), and it was matched perfectly with tangy tomatoes and light cream cheese. Mmmmm...
My second one was their signature Chilli Dog:
If you still remember what the "Coney Dog" at the now-defunct
A&W
tasted like, well, it tasted almost like that. But better.The topping is more like ground beef in gravy than chilli. To be honest, I didn't even taste any chilli! Nevertheless, it was yummy.
There were also some cute finds at
Disneyland
. Like this really ginormous turkey drumstick:
Doesn't look big to you?
Here's yours truly trying to get a bite: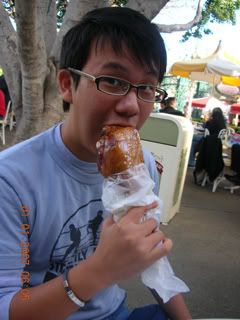 My jaw hurt k.
I also got a taste of Mickey!
Ok I'm lame la I know.
If it wasn't winter, I'm sure many people would have flooded
Baskin & Robbins
. It wasn't too bad.
Strawberry and Vanilla
I'm pretty sure most of us are avid chocolate fans, be it openly or secretly. Either way, none of us can resist the temptation of the chocolate world's crème de la crème,
GODIVA
. There's a huge variety of Godiva's products, from their best-selling bite-sized chocolates to cocoa powder.
Guess what I had?
I got a GODIVA Dark Chocolate Choco
lixir
!
I really can't describe how great it is. You have to try it to know what I mean.
And that's it for my special entry about food. More to come soon!