The Oscars were a tad disappointing if you ask me.
I dunno what's going on with the Academy, but they were too politically correct in their prize giving, if you ask me. Talk about predictability...
I'm really unhappy with the fact that Felicity Huffman didn't win the best actress award. I mean, it's amazing how convincing she was in
Transamerica
as a transvestite who finds out that she has a gay prostitute son. A woman who's acting as a man who went through a sex change to become a woman? This girl deserves some recignition... And in the end, they gave the award to Reese Witherspoon.
Apparently the Academy's still very conservative, despite the fact that there were very anti-conservative movies in the running for many awards this year (think
Brokeback
and
Transamerica
). The Best Picture Award went to the multi-racial, plot-intertwined
Crash.
Haven't seen that movie but I heard it's not as deserving as
Brokeback Mountain
(which I thought was a great movie. Made me cry...)
On the fashion front, one person stood out to me in particular.
This woman won the "Golden Guy" for Best Actress two years back as an ugly, cellulite-filled lesbian serial killer in
Monster
. And she's none other than... *drum roll please*
Charlize Theron

Shaun made a really funny comment about her outfit. We were both in the canteen watching
Channel News Asia
when they did a fashion coverage about the Red Carpet celebrities and we saw Miss In-the-gown-with-a-black-and-HUGE-Satin-Ribbon. It was so hilarious!
Shaun:
If she felt tired during the Awards show, all she has to do is just tilt her head over and snore.
Haha... Oh yes, I thought Jessica Alba looked so HOT with her back-to-brunette hairstyle. Blonde is just so not her colour.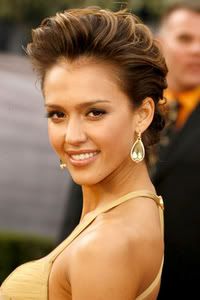 Jessica Alba (Brunette=Hot)
Jessica Alba (Blonde=Not-so-hot)
And that's it for my views on the Oscars of 2006...