After a long absence, I am finally back. With the convenience of Facebook, I seem to have neglected to update my blog. That's the fickle reality of technology. Like fashion, one day you're in, and the next you're out. But no worries, my blog is here to stay (not that I can say the same about my Friendster account heh heh).
I've just returned from my 9-day trip to Amsterdam and Paris, and I'm completely and absolutely smitten with Europe. The architecture and culture has opened my eyes to a whole new world of sights and sounds. It's definitely a place I'd love to visit again.
Departure & Amsterdam
Prior to my departure, I was involved in a singing competition called
A Shot to Fame
, and once again I was paired with Marcus. It was probably my last time joining a singing competition with him and most likely my last singing competition. I think I've outgrown the whole lights-and-fame thing. It's just not what I want anymore. Time to get serious about the rest of my life.
Anyway, on to my trip. After the performance, I immediately made my way down to the airport. Thankfully I didn't have much luggage with me so all was good. Only one check-in bag and I was off to Amsterdam!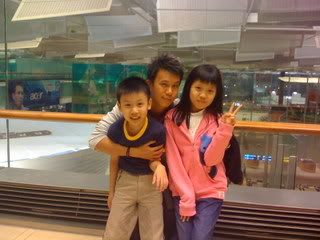 With my cousins Xavier and Shelia before my departure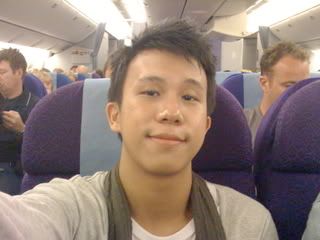 On the plane before take-off
Looking completely stoned after 13 straight hours on the plane
The arrival walkway at Amsterdam's Schipol Airport
1) THE Hotel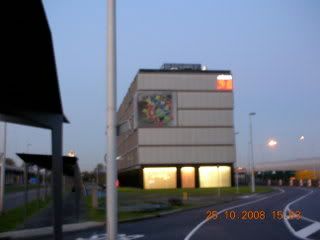 My hotel,
Citizen M
, located right next to the airport
It's probably one of the world's first high-tech hotels that requires little to no help, and there isn't even a proper reception counter at the check-in area! Instead, they have about 6 computer terminals where visitors can do their own idiot-proof, self-service check-in and check-out. What you need to do is really simple: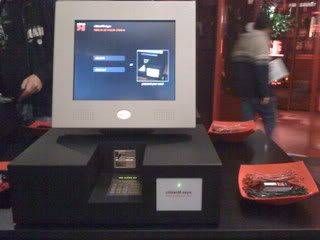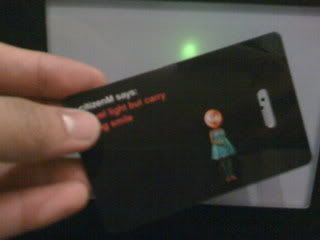 1) Pick a room card (or two) from a dish right next to the terminals
2) Key in your name and confirmation number on the touch-screen
3) Pick your choice of room
4) Tap the room card (ala EZ-Link) at the terminal
And voila! You've checked-in. The same process is repeated for check-outs.
Aside from being highly-technologically equipped in the reception area, the hotel's also very high tech in many other ways. One of which would be the availability of four Mac's at the lobby area, free of charge. Wi-Fi connection is also free throughout the entire hotel building. I say this because for the most part of Europe, even though they have Wi-Fi in many open areas, much akin to our Wireless@SG, it is not free of charge.
Moving on, the rooms. The rooms are
so frickin cool
. All rooms are linked to Phillips' Moodpad system, in which the lighting of the entire room (bed, toilet, walk-in area) can be tweaked to suit the user's moods. Other than the tech, it is also efficient in the use of space and fully equipped with a King-sized bed for a good night's rest.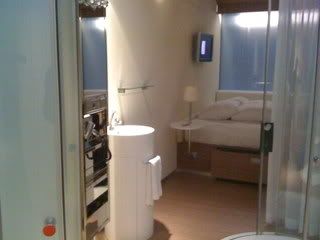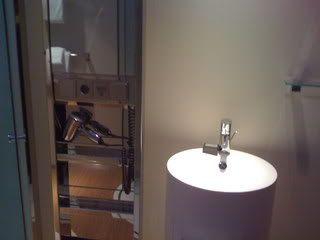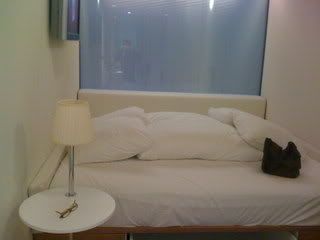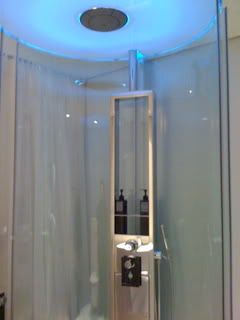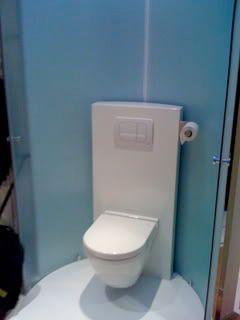 My room (from top): view from the door, mirror with dryer and washing basin, king-sized bed with tv on the left, shower cubicle, pee-/pooping cubicle
2) Amsterdam Centraal
After settling in, I made my way down to Amsterdam Central for sightseeing! One thing I noticed about Europe (at least from what I've observed in Amsterdam and Paris) is that public transportation is hella expensive. And I'm not factoring the cost of taxi travel. Which is why I purchased a day ticket (12.95€) which allowed me to take the train (once, to and from Central), and unlimited bus and tram rides (yes they have electric trams too!) for the entire day.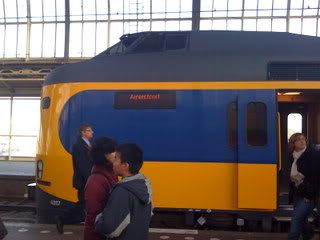 The train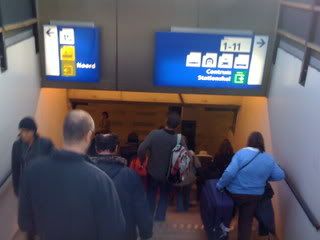 The platform exit
Walking through the Central area, I was greeted with the beautiful architecture that dates back at least two centuries, as well as an abundant number of shops ranging from the local brands (eg. Hempshopper, the canabis/marajuana/weed and mushroom store) to the more familiar international super-brands (eg. ZARA, Diesel, H&M). The alleys were packed with street-side food stalls as well to suit the cravings of any foreign tastebud. My favourite? The world-renown Dutch fast food, the
patat
. Or Fries, as we call it in English. They serve it in a cone with a variety of toppings, including ketchup, mayonnaise, and the German favourite, curry-ketchup (the name explains itself).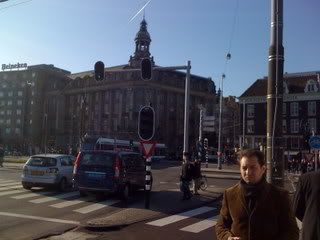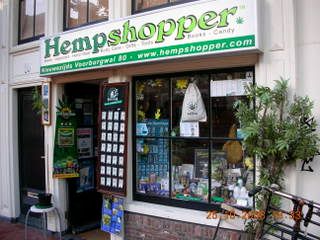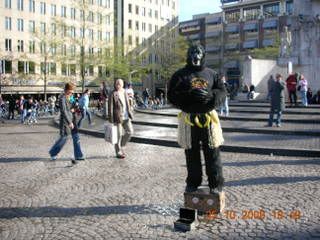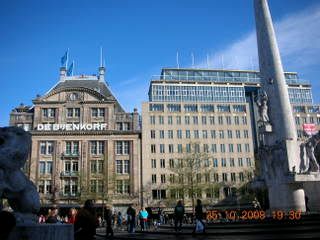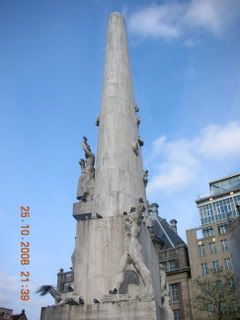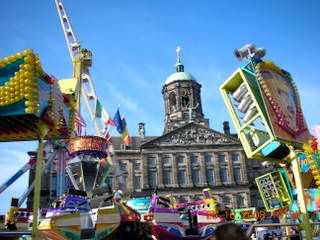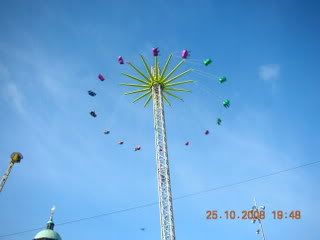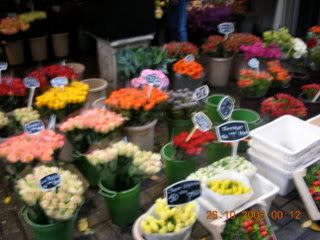 From top: view from outisde the train station; weed shop; open area; random "posing" artist as a Gorilla; a monument that resembles a huge, white erected...you know; a weekend carnival; one of the rides at the carnival; flower shops;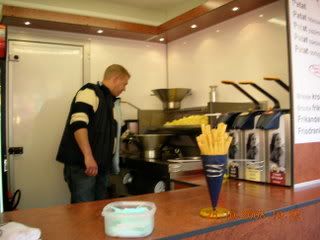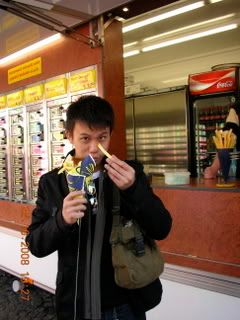 From top: The snack machines with snacks starting from 1€, the
patat
stall, and me holding on to my precious cone of fries!
After walking around and familiarizing myself with the streets and their respective names, I headed over to the Van Gough Museum (12.50€, no student concession =/). No photography was allowed in the museum though. Needless to say it was a very well-designed building and the paintings were nothing short of spectacular. Van Gough's art vaguely reminded me of the paintings I did when I was a child. I was not an expert painter, mind you, but I loved to sign my pictures with big bold letters after I'm done with it. Most of his paintings are signed in a very child-like manner, with the alphabets being very specifically scrawled out at the bottom corners of his work.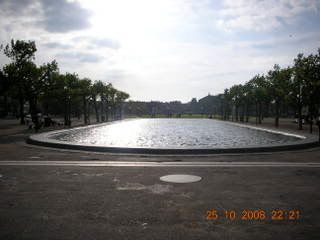 A pond in front of the Van Gough Museum
3) Amsterdam Canal
The following day, Mummy joined me in Amsterdam after her business trip in Den Bosch (North of Amsterdam in Eindhoven), along with Auntie Rose, her ex-colleague and old friend. Since I hadn't gone for the tour of the Amsterdam Canal, we decided to go for it even though it was a rather wet and gloomy day. It had been drizzling since the early morning. Anyway, the ride took about one hour, and that was when I realized that the canal was soooooooooo long!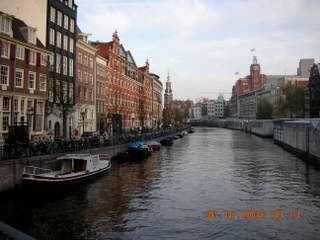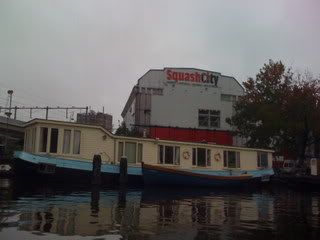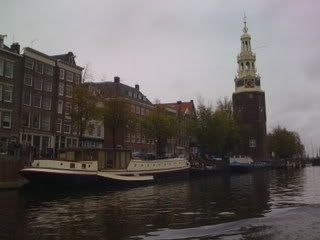 Shots from the boat ride. The sky sure was dull that day...
After the ride, it was simply too cold to walk around so we decided to find a nice, warm restaurant to hide into to be safe from the cold. And knowing Mummy, she had to find some Asian restaurant for an early dinner. And so, there we were: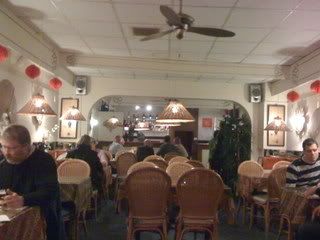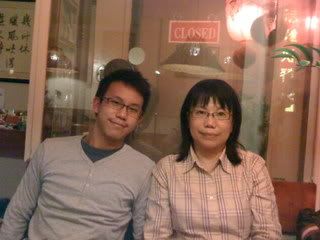 4) RLD: Red Light District
That night, we took a walk down the famous (or infamous, if you'd like to see it that way) Red Light District. It was still drizzling a little, so we were all still pretty much freezing to death (I'm from tropical sunny Singapore; shoot me). But we were only there out of curiosity. After all, the Netherlands is well-known for it's famous legalized prostitution. Like it's been described by many who have gone before me, there were the little cubicles with prostitutes in it. Some were pretty hot, but most of them were not. As we were walking along the stretch of brothels, I noticed something odd. In between the sex-holes were boutiques selling high fashion home-grown labels. I didn't know why until I returned to the hotel, Googled about it and realized that there was this programme called "RedlightFashion Amsterdam". You can read more about it at the official website
here
.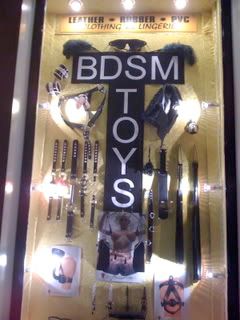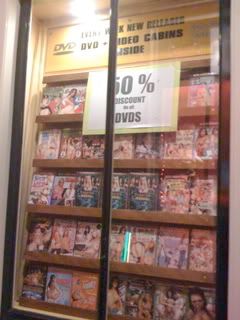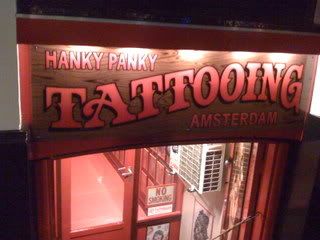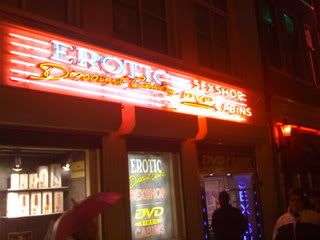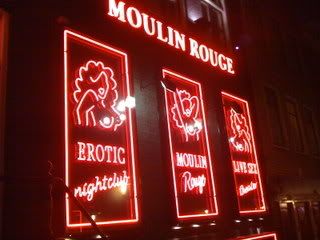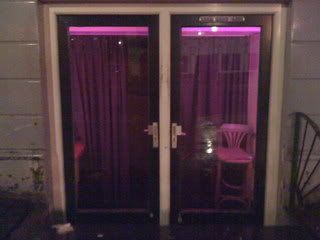 The Red Light District with it's unique "flavour"; note the pseudo Moulin Rouge that's actually a nightclub. Heh heh.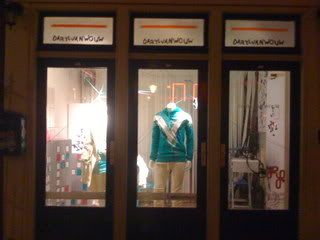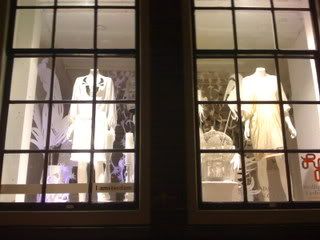 The boutiques that are part of RedlightFashion Amsterdam.
Bonjour Paris!
After a pleasant short stay in Amsterdam, the three of us checked-out bright and early and headed over to the train station at Schipol for our ride to Paris. We rode on Thalys, the European train operator which provides services to Paris, Brussels, Cologne and Amsterdam (the track used is shared up with Eurostar as well, and that can bring us to London via the Channel Tunnel).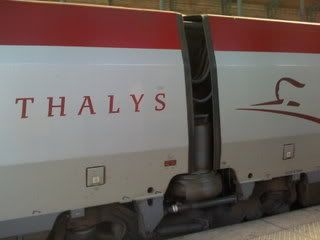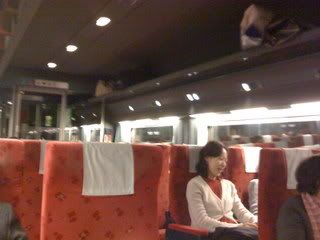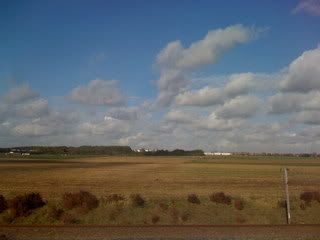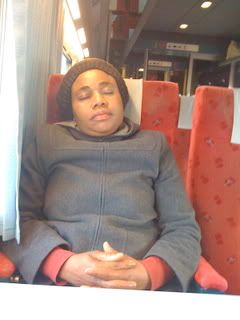 From top: our train from Amsterdam to Paris; the interior of the train cabin; scenery along the railway; random lady sitting across me who kept kicking my feet while she was asleep
We were greeted with exceptionally good weather upon our arrival. There were no strong gusts of wind attempting to chill our bones dry, and the sun was flying high in an almost cloudless sky. Pretty day but we did get pretty lost trying to find our way to the hotel. Google maps told me it was a 20 minute walk away from the Gare du Nord station, but it took me 45 minutes to figure out where I was going before we finally arrived at our destination.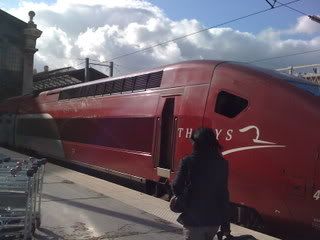 Our Thalys train arriving in Paris!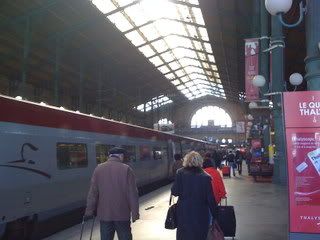 Gare du Nord station
1) Parlez-Vous Anglais?
Getting around in France is extremely frustrating for a tourist, especially if you're not well-versed in French, or like me, you're almost completely useless when speaking in their native tongue (yes yes Jerrick, go ahead and mock me. You know you want to). However, my saving grace came in the form of my friendly Time Out™ travel guide, from which I learnt simple French words and phrases that proved to be a whole lot of help. Here's what I used
all
the time:
Escusez moi
(es-ku-say muah) - Excuse me
Parlez-vous anglais
? (pah-lay-voo ong-glay) - Do you speak English?
Pardon
(pah-dong) - Sorry
Si vous plait?
(see-voo play) - Please?
C'est combien?
(say kom-bian) - How much is this?
Merci
(meh-ah-see) - Thank you
They're really very proud of their language, which is not a bad thing if you see it from their point of view. So the next time I'm going to France, I'm picking up at least some conversational French. I hate feeling helpless.
2) Parisian Monuments!
Like any other sane person who visits from far far away, I dragged the two hapless women around to visit the must-sees of the charismatic city. Now I won't go into too much details (cos I know you people nowadays love to see.more.pictures instead of reading plain black letters), so I'll let the photos do the talking:
- Basilica of the Sacré Cœur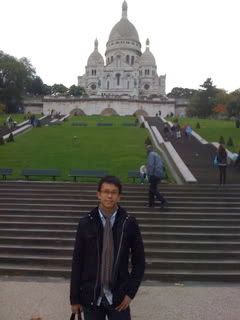 Hidden high up on a hill in Montmartre is one of the stops on a tourist's (as well as a Catholic's) pilgrimage. The Basilica of the Sacré Cœur (Church of The Sacred Heart) was completed in the year 1914, 41 years after construction began. The unique thing about the Basilica is that it has the Blessed Sacrament in a monstrance on the altar that has been on display since 1885 (123 years!!!), and a perpetual adoration has been observed ever since. This is why there are many ushers within the Basilica to maintain orderliness and and silence in reverence of the host.
- Église de la Madeleine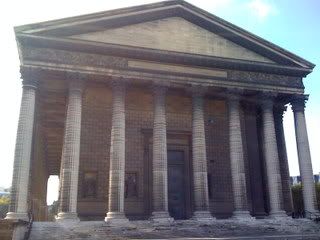 Also known as Madeleine Church in English, this magnificent structure served as a temple in glorification of Napoleon's army. We observed many stalls selling flowers along the stretch of the building. And on the Northern face of the Madeleine, the steps are covered beautifully with flowers (didn't manage to get a decent shot of the flower-covered steps, so none to share. Sorry....)
- Place de la Concorde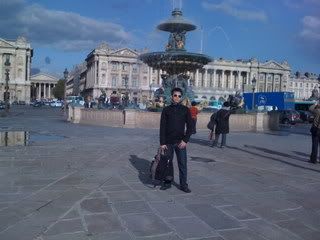 The weather wasn't too good on our second day, so when we visited this historic site where Marie Antoinette, King Louis XIV etc. met their end at the guillotine, we were slightly drenched. As usual, there's nothing more I can say about the architechture other than the fact that it's beyond pretty (and that damn pillar sticks out like a...sore thumb! I meant to say sore thumb! :P)
- Notre Dame de Paris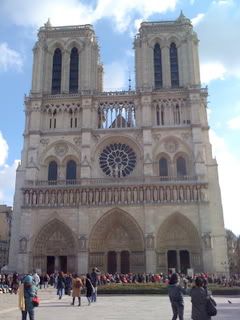 Just so you know, there are 10 million "Notre Dame's" in France. Ok, I exaggerate There are 8 in France, and 7 more in the rest of the world. The real thing was exactly like how it looked like in the 1996 Disney movie (
sans
oddly-dressed French people, and definitely no sign of a hideous Hunchback), and I was swept off my feet at the sight of it's tinted glass windows. After a long morning of walking about on a semi-empty stomach (we always stuffed ourselves silly at our hotel's breakfast hehe), we headed off to a nearby café for lunch, and we had: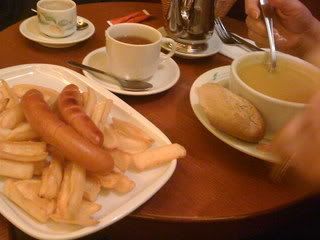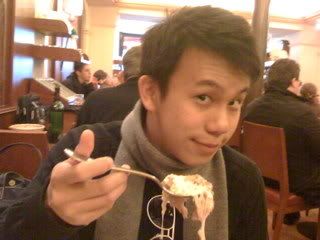 Carbonara pasta, French onion soup, sausages with frites and pumpkin soup. Yummmm....
- Louvre
The place made famous by Dan Brown's controversial novel "The Da Vinci Code". The home of the Mona Lisa. Yes, the Louvre (pronounced "loof"). With an affordable entrance fee of only 9€ (it's 10 times larger but 3.50€ cheaper than the Van Gough Museum!!!), you can burn your day away staring at the numerous sculptures, paintings and even Egyptian mummies (if you've got the guts to) in this world-renown museum. The exhibition halls are quite maze-like, and it's quite easy to get lost within the building. I know that because I was stuck in the Egyptian exhibition hall with the mummies for about 20 minutes before I figured my way out.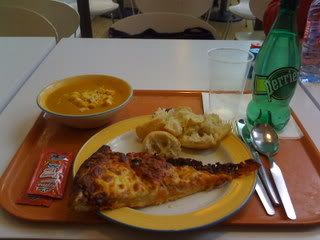 My lunch at the Louvre: a slice of pizza, a bowl of pumpkin soup and a bottle of Perrier (14€). Super overpriced.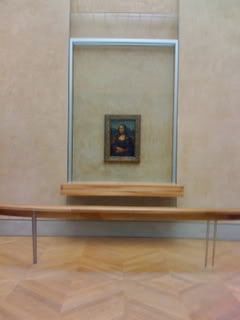 The
Mona Lisa. It's so...small?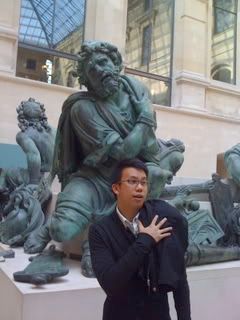 Posing FAIL. The damn bronze sculture poses better than me. :(
- Eiffel Tower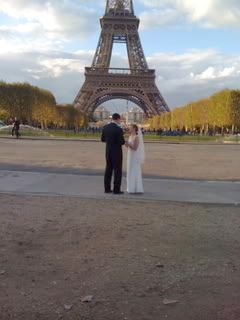 It'd be a dream come true to take wedding photos at the Eiffel Tower innit? What's more for me to say? *swoons* It's soooo incredibly charming in real life... More photos!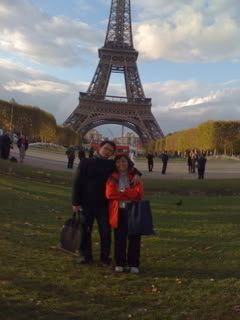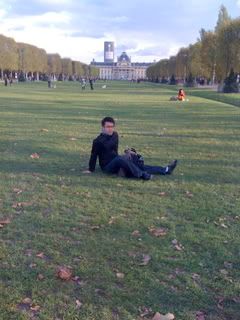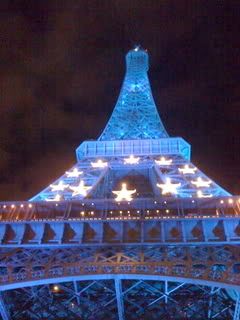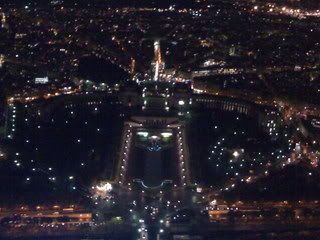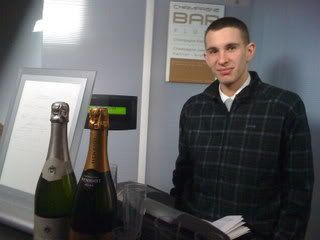 Shots taken from around the Eiffel Tower, of the Eiffel tower, on the Eiffel Tower, and the wax-statuesque champagne guy who's at the highest level of the tower.
- Arc de Triomphe
The Arc stands in the centre of the Place Charles de Gaulle. It is at the western end of the Champs-Élysées. The triumphal arch honors those who fought for France, particularly during the Napoleonic Wars. I didn't want to queue up for entrance into the Arc because the human chain was inhumanely long, but from what I've heard, on the inside and the top of the arc there are all of the names of generals and wars fought. And a very special thing about the Arc is that underneath it is the tomb of an unknown soldier from World War I, with an eternal flame burning burns in memory of the dead who were never identified.
3) Paris Holds the Key to Your Heart! OOH LA LA!
And I thought I wouldn't be watching any shows cos they were so expensive. But I did. Auntie Rose and my dear mother decided that it would be a waste if we visited Paris and did not catch any of their amazing cabaret shows. According to trusty sources (ie tour agencies), the Lido was more of a modern performance show compared to the traditional and made-to-movie Moulin Rouge. Therefore, we each poured 140€ for the dinner plus show tickets at the Lido.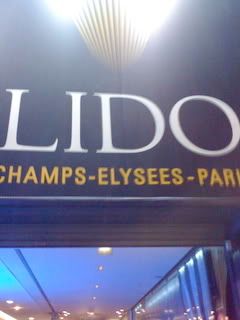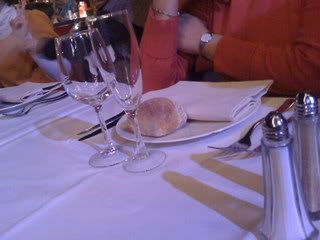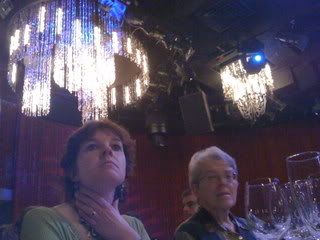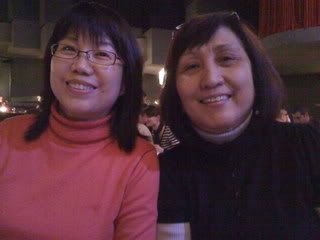 Formal dressing required for the evening, but Mum and Aunt Rose seemed to think that dressing down was a good idea for our fun night out. No photography was allowed for the show, so I couldn't capture all of the heart-stopping action on stage during the show.But if you're interested, they've got their website right
here
if you wanna check them out.
4) Shopping Shopping SHOPPING!!!
After Auntie Rose's departure, Mum and I took the RER to Val d'Europe, where the factory outlets of La Valée were located. It was there where my mother's inner shopaholic beast was unleashed. We walked and splurged, walked and splurged the entire day till nightfall. Very eventful, but also very exhausting.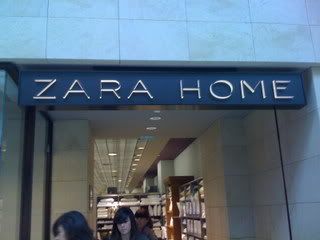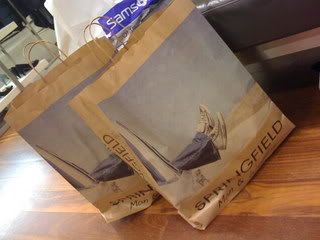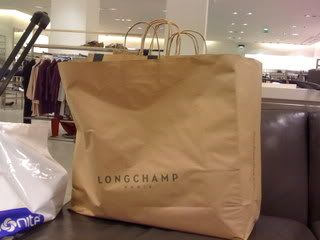 Places we've seen and the things we bought (not all are pictured).
5) Versailles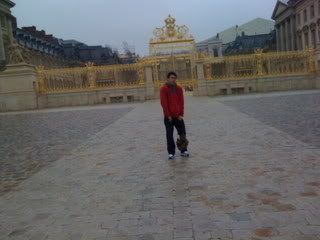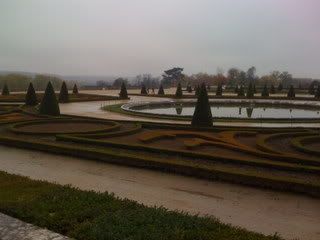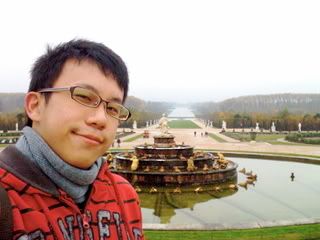 The following day, we visited Versailles, another town in the outskirts of Paris. It is famed for it's castle of Marie Antoinette, as well as the enormous stretch of garden behind it. The King must have really loved Marie Antoinette, because the very first thing to greet us at the castle was a huge gate completely plated with gold. Y'know how they roll in the past: gold = love. More gold = more love. After our photo-op at the Chateau, we headed off to find a nice warm place for coffee and we found...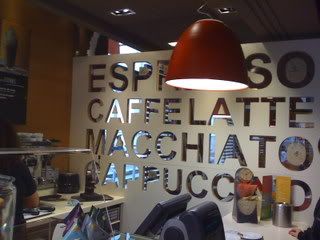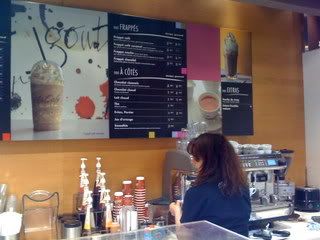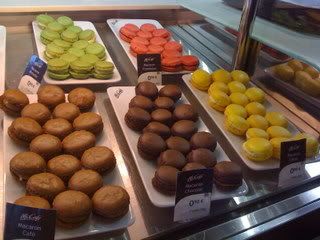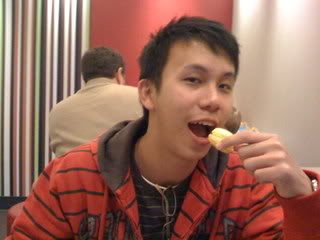 McCafé! The McCafés in France are really more well furnished than their counterparts in Singapore. Not that I'm dissing our own local outlets, but it's a fact. Hell, they give Starbucks a run for their money. What I love about them? They sell my favourite macarons! =)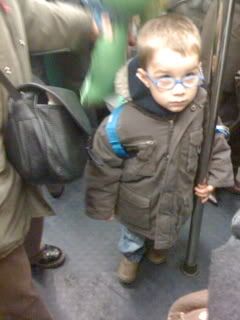 On our way back to Paris (it was Halloween), there was this really adorable little toddler who kept glancing up at Mummy while we were on the train. He had azure blue eyes and matching blue spectacles that just went so well together. So adorable!
Au Revoir Paris!
After 9 days in Amsterdam and Paris, I finally had to say goodbye to Europe. It was short but definitely sweet. I'LL BE BACK!